A Look Back at the Bitter Relationship Between Los Angeles Lakers' Two New Joinees
Published 07/19/2020, 6:09 PM EDT
---
---
Playing alongside a star like LeBron James has to be intimidating for many. But that seems to be the least of their problems. For the first time, the duo will be playing alongside one another instead of against for the Los Angeles Lakers. But with their turbulent past, will they be able to?
ADVERTISEMENT
Article continues below this ad
Will Dion Waiters be the Los Angeles Lakers scapegoat?
When the Athletic's Joe Vardon asked Dion Waiters how he felt about playing with LeBron James and J. R. Smith together, the latter didn't seem pleased. He told Vardon to "stop trying to start sh*t."
ADVERTISEMENT
Article continues below this ad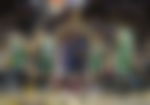 Probably because the question was specifically about the Cleveland Cavaliers trading Waiters out for J. R. Rocky ground? Apparently not. According to The Athletic, Waiters said,
"We've got one goal in mind and that's to win, so all that other stuff that happened like that, I don't really remember."
Back when LeBron and Waiters were with the Cavs, the other team star, Kyrie Irving, wasn't too fond of the latter either.
"They always disliked each other, no matter how much the organization tried covering it," Joe Vardon, Bill Oram and Jason Lloyd of The Athletic wrote.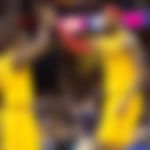 However, LeBron James was Waiters' buddy, apparently. As they would get blamed for anything that went wrong, it seems Waiters became a scapegoat. That time, James told him,
"Every team, there's a guy they want to kind of place the blame on. It would be Dion on our team,"
"I told him, 'You can't get involved in that or what people say about you. It's not what people think of you, it's what you think of yourself.'"
Unfortunately, James' views also changed soon when Waiters hit him in the face while passing the ball during a matchup.
ADVERTISEMENT
Article continues below this ad
Dion had a rather bad reputation with the Cavs. After the franchise traded him out and J. R. Smith got in, a team executive said,
"If J.R. f*cks up, it'll be off the court, Dion was f*cking us up on the court."
ADVERTISEMENT
Article continues below this ad
Now, however, it seems things might just be different. Recently, when Lakers head coach Frank Vogel talked to the media, he revealed that J. R. and Dion were coming into the team with positive attitudes and a mindset to win. They seemed to be doing well during practice too and getting along with the tightly knit Lakers' family.
Hopefully, no unpleasantness will arise, as the Lakers gear up for their first scrimmage in the Orlando bubble, this coming Thursday.