NBA Commissioner Adam Silver Says The Orlando Bubble Will Cease Completely If The Virus Spreads
Published 07/30/2020, 10:00 AM EDT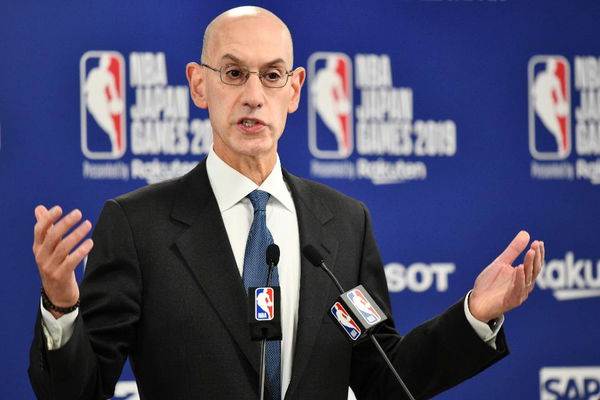 ---
---
Yesterday Denver Nuggets sophomore Michael Porter Jr made some rash comments about the coronavirus. Via Snapchat, Porter Jr said that  the virus is "being used for population control in terms of being able to control the masses of people." Later NBA Commissioner Adam Silver appeared on two different news segments and talked about how the NBA is dealing with the pandemic.
ADVERTISEMENT
Article continues below this ad
Silver made an appearance on Good Morning America yesterday. After discussing how the MLB is unable to control the spread of the virus, Silver seemed confident about the NBA bubble. "Obviously, we're seeing what's happening in baseball with the Marlins so it's something we continue to track very closely," Silver said. "Having said that, we have confidence in the protocol that we designed." 
Silver said he prioritizes the health of his players first. "We would cease completely if we saw (the virus) was spreading around the campus. I wouldn't (have any qualms about shutting the bubble). It's healthy and safety first. That's always been our guideposts going into this."
ADVERTISEMENT
Article continues below this ad
NBA Commissioner Silver unimpressed by Porter Jr
Repeated tests were conducted for the players in the bubble. It showed that none of the players in the bubble have contracted the virus, proving it be a safe place. So Silver said, "Jokingly, and it may not be so funny, we say 'The safest place in the world might be on this campus at Disney right now.'"
Later on CNN, Silver dismissed Porter Jr's comments about the virus. Host Wolf Blitzer asked Silver if Porter Jr's comments endanger him and his teammates. "It's unfortunate that he said that… guys are young, occasionally gonna say silly things," Silver replied.
ADVERTISEMENT
Article continues below this ad
With all teams playing three scrimmages each, it is now time for the official games. Starting tonight, the seeding games will begin in the bubble. The Utah Jazz will take on the New Orleans Pelicans in the first game. Then in the second game Los Angeles Lakers will face their rivals, LA Clippers.
Sources:
NBA Commissioner Adam Silver says league will 'cease completely' if COVID breaks out l GMA
ADVERTISEMENT
Article continues below this ad