"It's Embarrassing": New Orleans Pelicans' J.J. Redick Reacts to Becoming a Viral Internet Meme
Published 08/04/2020, 8:36 PM EDT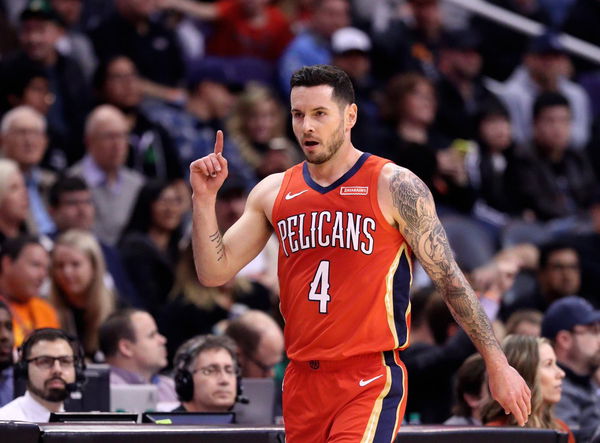 ---
---
Ever since the season resumed in the Orlando Bubble, the New Orleans Pelicans have had a rough run. They have lost two games out of three by now. They first lost against Utah Jazz on the first day of the seeding games with a score of 106-104. The close call between the teams may have given some confidence to the Pelicans which was broken in their next game against the Los Angeles Clippers.
ADVERTISEMENT
Article continues below this ad
Pelicans faced the Clippers on August 1, the third day of the seeding games. They were defeated badly with a score of 126-103. The Pelicans were down 32 points by the second half already and further added on to their loss.
Pelicans player becomes sensational meme
ADVERTISEMENT
Article continues below this ad
J.J. Redick is the shooting guard for the New Orleans Pelicans. He was a part of the Philadelphia 76ers and had the highest three-point percentage in the team. He had made a shift to the Indiana Pacers once before after he rejoined the Sixers which eventually led to his move to the Pelicans last year.
Redick was not pleased with the Pelicans' performance in the match against the Clippers. ESPN cameras caught an extremely hilarious shot of his face showing his exact emotions. Rob Perez then tweeted the picture.
After this image went viral on social media, many memes referencing his look came to light. The senior producer at SBNation also tweeted " JJ Redick when he checks Twitter after the game" as a caption to the image.
Someone even tweeted " JJ Redick and the Pelicans are all of us in 2020″ which may have been the most accurate one to come across.
ADVERTISEMENT
Article continues below this ad
J.J. Redick's reaction
In all of his 13 seasons, Redick has always made it to the playoffs. However, that may not be achievable this time given the performance of the Pelicans. With all of these problems to deal with, being a target of memes was certainly not easy. He told ESPN Daily that," I was angry we got our butts kicked. It's embarrassing, and I think my face summed up that first half pretty well."
However, he also made a small comment on the meme itself saying, " There's so many circumstances you could apply the emotions that I was going through in that moment. "
ADVERTISEMENT
Article continues below this ad
After winning the match against the Memphis Grizzlies today, they will be playing the Sacramento Kings on Thursday, August 6.
SOURCE: ESPN Daily