When a website publishes their ranking of top players, it is obvious to see several controversies taking birth. ESPN released one such ranking of Top 50 Bubble Players, and it is attracting criticism from a few associated with the NBA. The Top 10 missed out on Damian Lillard and Russell Westbrook among many other biggies.
Damon Jones is a 43-YO former assistant coach of the Cleveland Cavaliers. He was drafted in 1997 and played till 2004. He is back in the news for throwing the rankings out of the window because it missed out on acknowledging a few deserving names as per him.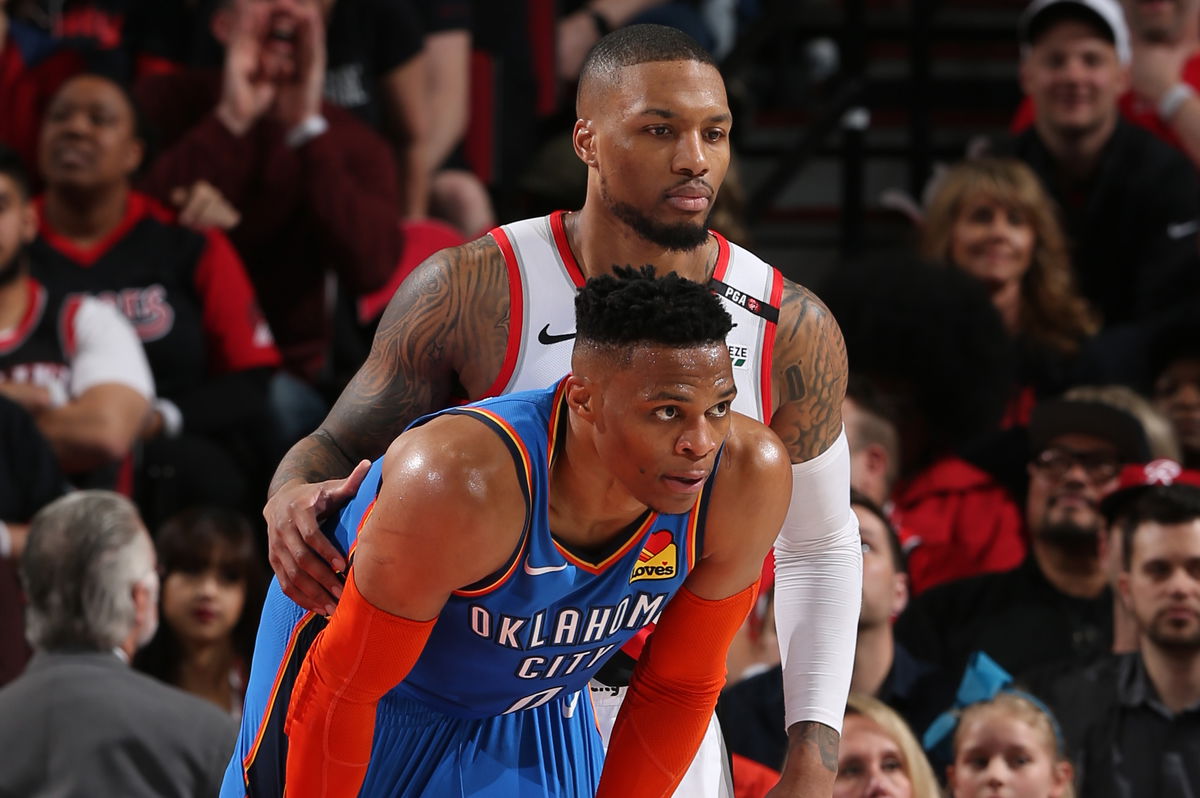 Damian Lillard reacts to the ESPN Top 50 ranking
Here is the ranking by ESPN, where they themselves point out at the exclusion of Dame and Russ.
LeBron and Giannis are at one and two, but Dame and Russ didn't crack the top 10.

See where your favorite player lands on the list ➡️ https://t.co/53ytU3RBdA pic.twitter.com/D6O4pYokOS

— ESPN (@espn) July 26, 2020
Interestingly, the two stars used to have a beef between them. But we won't get into that.
Damon wrote on his Twitter supporting the two left out players, "Come on with the BS @espn @Dame_Lillard is the Best PG in the Game right now!Both him and @russwest44 should be in the top 10".
Damian noticed the mention and replied with a pinch of sarcasm in it, "Leave the 'experts' alone." That wordplay where he puts emphasis on 'experts' explains it all. He is clearly calling out the ESPN panel who designed the list and released it just before the season restart. Have a look at the tweet-
Leave the "experts" alone. https://t.co/EOvXsf7u3r

— Damian Lillard (@Dame_Lillard) July 26, 2020
How effective have these two forces been lately?
The 30-YO point guard for the Portland Trail Blazers, Damian is averaging a crazy 28.9 points per game in 36.9 minutes of play. His assists average stands at 7.8 in the regular season.
Russell Westbrook is the key player for the Houston Rockets and has shown promising potential to reach the top. Many analysts see this side as a great competition against other teams, thanks to players like James Harden and Russ. He is averaging 27.5 ppg in this season and has an impressive FG of 47.4%.
The ten players mentioned on that list are so good that spinning anyone out is also not a viable option. Nevertheless, these two also deserve to a place in the Top 10 players of the Orlando Bubble. What is your take on this list of players? Are any of your favorites missing? Share with us in the comments.
Sources- Damian Lillard – Twitter, ESPN – Twitter, ESPN Ranking
Sourabh Singh
All work and no play makes Jack a dull boy. I intend to make popularise my quote when I say sports define me better than I define sports. See ya'all Champs!