"Shoot the F—ing Ball": Miami Heat Coach Screams at Star Shooting Guard for a Slow Start
Published 10/02/2020, 11:23 PM EDT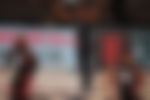 ---
---
It now seems that the Gods of Basketball are not ready to back the Miami Heat anytime soon. They entered Game 2 carrying swords against the Lakers, who were ready with battle tanks. Bam Adebayo (shoulder injury) and Goran Dragic (torn plantar fascia) were ruled out. The onus of shooting came on Jimmy Butler and Duncan Robinson.
ADVERTISEMENT
Article continues below this ad
Jimmy scored 11 points, 5 rebs, and 8 assists by the first half. He received some support from both Jae Crowder and rookie Tyler Herro, who added 9 each in two quarters. Meyers Leonard started as a center with only 9 minutes of prior playoff experience in this season. Safe to say that they were in thick soup.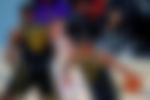 When Miami Heat head coach lost his cool
ADVERTISEMENT
Article continues below this ad
Heat's shooting specialist, D-Bo, managed just 3 points each in the first three quarters. His 22 minutes of play was plagued by hits and misses. When the franchise is 0-1 down with two key players sitting out, this is not how a player of his caliber can play. 
This was enough to irritate the head coach Erik Spoelstra as he got provoked and relieved his anger by shouting, "Shoot the F—ing Ball". 
Erik Spoelstra just screamed to Duncan Robinson: "Shoot the (bleepin) ball!!" #Heat #Lakers #NBAFinals

— gary washburn (@GwashburnGlobe) October 3, 2020
Appears Erik Spoelstra just told Duncan Robinson to "shoot the f—ing ball."

— Tim Bontemps (@TimBontemps) October 3, 2020
Duncan came from G-League and entered the NBA late in his career. Nevertheless, the hype around him was huge, thanks to the fact that he led his college team to a championship win in 2018. The man is known more for his three-point shooting accuracy than anything else.
ADVERTISEMENT
Article continues below this ad
But the fact is also that his shooting from behind the arc has been poor against the Lakers in the NBA Finals. He scored zero three-pointers in Game 1 and lacked precision in Game 2.
The Lakers are proving unstoppable!
Until the third quarter, Anthony Davis had accumulated 30 points to his name while LeBron James had 23. But the story of Q1 was Dwight Howard, who is now regularly starting for the Lakers. He scored 6 points, 2 rebs, and 1 assist in Q1 and was a force inside the paint. Him being in a superman mode set a tone for the Lakers that they carried and did not allow the Heat to come any closer to them. 
ADVERTISEMENT
Article continues below this ad
The Lakers came out in the Mamba jerseys and it looked obvious that they came prepared to play a Miami side that might have Bam Adebayo and Goran Dragic. So, it all got easier and easier for them as the game began and went further.