"Wish Kobe and Gigi Were Here to See This": Vanessa Bryant Reacts to Lakers Winning the 2020 NBA Title
Published 10/12/2020, 6:15 AM EDT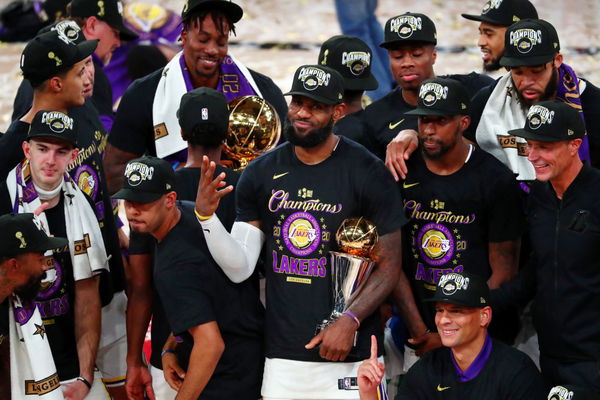 ---
---
After two long decades, the Los Angeles Lakers have won an NBA title without Kobe Bryant being part of the roster. However, Kobe's presence was with the players and franchise throughout the postseason.
ADVERTISEMENT
Article continues below this ad
Ever since Kobe's tragic death, the purple and gold had just one task at hand. They wanted to win a championship in loving memory of the Mamba. After a long and eventful season, LeBron James and Anthony Davis delivered the results that every Lakers fan had been waiting for, for 10 long years.
Kobe's wife Vanessa Bryant reacted to the Lakers lifting the elusive NBA trophy for the 17th time in the organization's history. She wrote, "Go Lakers! Congratulations Uncle P! [Rob Pelinka] Congratulations Lakers. Kobe was right, RP 'Stay the course – block out the noise'. Wish Kobe and Gigi were here to see this."
ADVERTISEMENT
Article continues below this ad
The last few months must have been extremely difficult for Vanessa, given that she had to cope with her husband's and daughter's death. Now, for the first time in months, she has a reason to rejoice. The Lakers have finally done it; they have become the champions of the basketball world.
Kobe Bryant: The fuel behind the Lakers sensational postseason run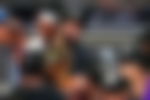 During his playing days, Kobe established himself as one of the hardest workers in the entire league. While he is no more, his mentality has lived on in the hearts of fans and the players.
ADVERTISEMENT
Article continues below this ad
Lakers superstars Anthony Davis and LeBron James bought their game to the table to close out the series. While LBJ registered a 28 point triple, AD had 19 points while grabbing 15 boards and blocking 2 shots in Game 6.
The dynamic duo showed up when it mattered most and sent the Miami Heat home. After winning in Game 5, the Heat were right back in the series with all the momentum in the world. However, head coach Frank Vogel's addition of Alex Caruso in the starting lineup disrupted the Heat's offense.
The Lakers played an aggressive style of defense right from the opening tip. In fact, they never took their foot off the peddle and cruised through to a blowout win.
ADVERTISEMENT
Article continues below this ad
What do you think? Are the purple and gold in a position to repeat this dazzling performance next year?