NBA Playoffs: Los Angeles Lakers vs Denver Nuggets Game 2 WCF Injury Updates, Lineup and Predictions
Published 09/20/2020, 5:30 PM EDT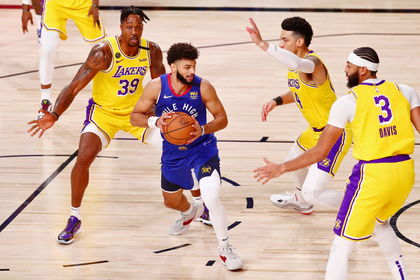 ---
---
The NBA Playoffs are in their final stretch, with only four teams remaining. In the Western Conference, the Los Angeles Lakers and Denver Nuggets are battling for a spot in the finals. While the Lakers hold a 1-0 lead, the Nuggets have already established themselves as the comeback kings.
ADVERTISEMENT
Article continues below this ad
The Nuggets roster must be pretty exhausted at this point in the Playoffs. They not only played in two consecutive seven-game series but made astonishing 3-1 comebacks as well. Nikola Jokic and Jamal Murray are playing with a sense of emergency, and it's been working pretty well for the team.
But the Lakers are on a different level than other teams in the Playoffs. LeBron James and Anthony Davis are playing tremendously in this postseason. The two superstars are averaging a combined 54 ppg so far with impressive plays on the defensive end,
ADVERTISEMENT
Article continues below this ad
Los Angeles Lakers injury update and predicted lineup
LeBron James tweaked his ankle early in Game 1. However, he played through it, and according to head coach Frank Vogel, he will be available to play in the second game.
Frank Vogel says he expects LeBron James' ankle, which he rolled in Game 1 when stepping on Jerami Grant's foot, should be good to play on in Game 2 tomorrow.

— Dave McMenamin (@mcten) September 19, 2020
Apart from King James, the Lakers have listed guards Dion Waiters and Rajon Rondo as probable for Sunday's matchup. Moreover, Vogel might start Dwight Howard instead of JaVale McGee in the starting lineup. Howard was spectacular in the Game 1 victory, registering 13 points along with 2 steals and 2 blocks.
So, the predicted lineup for the Lakers is LeBron James, Anthony Davis, Danny Green, Kentavious Caldwell-Pope, and Dwight Howard.
Denver Nuggets injury update and predicted lineup
The Nuggets had pushed their opponents to consecutive seven-game series in the previous two rounds. As a result, it is only natural that this postseason is taking a toll on their roster. Will Barton and Vlatko Cancar will remain out of the lineup against the Lakers.
Status note: Will Barton (knee) remains without timetable for return.

— FantasyLabs NBA (@FantasyLabsNBA) September 17, 2020
Luckily, no other player has suffered any major injuries so far. The predicted lineup for the Nuggets is Jamal Murray, Nikola Jokic, Jerami Grant, Gary Harris, and Paul Millsap.
ADVERTISEMENT
Article continues below this ad
Lakers vs Nuggets Game 2 prediction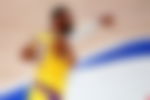 The Nuggets have been phenomenal in the 2020 NBA Playoffs, but taking on the Lakers could be too much, even for them. The Lakers' big men tired out the Nuggets in Game 1 and also put them in foul trouble early in the game.
ADVERTISEMENT
Article continues below this ad
If we get to witness more of the same from the Lakers, then they should have Game 2 in the bag. James and AD's scoring ability, combined with elite defense from big men, might be the winning formula against the Nuggets.