NBA Playoffs: Los Angles Lakers vs Houston Rockets Game 3 Injury Updates, Lineup and Predictions
Published 09/08/2020, 6:30 PM EDT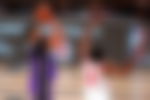 ---
---
After a humiliating defeat in game 1 of round two of the Western Conference Semi-Finals, the purple and gold pulled through. While the Houston Rockets struggled to deliver a good performance, the Los Angeles Lakers shined on the court. It has been a battle of their star duo's and it looks like they are neck to neck as of now. As the series has entered a tie, the Rockets will aim to take back the lead they gained at first and the Lakers will hope to maintain their momentum from the previous game.
ADVERTISEMENT
Article continues below this ad
Let's focus on game 3 now and what awaits the two teams on Tuesday.
Los Angeles Lakers injury update and lineup predictions
ADVERTISEMENT
Article continues below this ad
As soon as the game began, the Lakers looked way more determined this time. Stunning scores from their key players, LeBron James and Anthony Davis, changed their fate entirely. They both bagged a combined total of 62 points and 21 rebounds and if they continue this form on a nightly basis, it will pose huge problems for the Rockets.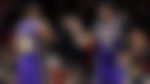 It appeared as though the return of their point guard, Rajon Rondo also gave them a huge push. Despite not playing for so long, he was a vital contributor in this game. All that the Lakers need is more output from their remaining starters. If Danny Green, JaVale McGee, and Kentavious Caldwell-Pope provide more output, they will be golden. However,  LeBron (groin) and Davis (finger) have been listed questionable as of now for game 3. While they are already without Avery Bradley, JaVale Mcgee (ankle) and Dion Waiters (groin) are game-time decisions.
If Lebron and AD don't play, there is no way the rest of the players can hold the fort for them. Until there is a confirmation, the predicted lineup would be LeBron James, Kentavious Caldwell-Pope, Danny Green, Anthony Davis, and JaVale McGee.
Houston Rockets injury update and lineup predictions
The Rockets raised everyone's hopes when they unexpectedly won the first game. However, it was Russell Westbrook's poor performance that is being blamed for this loss. Ironically, he is still their lifeboat and the only one who can help the Rockets get back into the lead. Westbrook has just returned after a severe quad injury and seems rusty out there.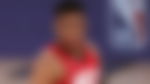 Nevertheless, the Rockets have no time to make excuses. What they need to do is shift their focus from three-pointing shooting and find other solutions to make it rain on the offense. This is because it's clear that Westbrook was very inefficient from the arc. If Westbrook doesn't do his part, James Harden is pressured to pick up the pieces and turn it up even more. They should stick to the kind of tight defense they showcased in game 1 and clog the plaint as much as possible.
With a healthy roster as of now, the predicted lineup would be Russell Westbrook, James Harden, Eric Gordon, P.J. Tucker, and Robert Covington.
ADVERTISEMENT
Article continues below this ad
Game predictions
The Lakers hold an advantage over the Rockets. If their remaining starters contribute as much as LeBron and AD, they'll be unstoppable. We have seen that both teams can go head to head offensively, but the better defender is the one that will come out victorious.
ADVERTISEMENT
Article continues below this ad