Brow over 'Bron: Why Anthony Davis should be awarded the Finals MVP over LeBron James
Published 10/08/2020, 1:23 PM EDT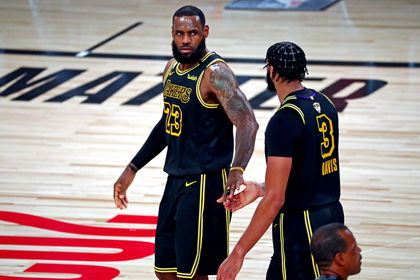 ---
---
The Los Angeles Lakers look set to win their 17 NBA Championship, barring any upset from the Miami Heat. Already 3-1 up in the series, LeBron James and Anthony Davis have been playing on another level compared to the rest of the league. Much of the conversation surrounding their potential win has been about James' winning his fourth NBA championship and Finals MVP. But the media has completely been ignoring the true X-factor for the Lakers, which is Anthony Davis.
ADVERTISEMENT
Article continues below this ad
Anthony Davis has been the best player for the Lakers throughout this post-season, and even more so in the Finals. Throughout the Playoffs, he has averaged about 28 points, 9 rebounds, and 3 assists. Compared to James' 27-10-8, the numbers would suggest that James' has been the key for the Lakers. But those numbers do not do 'The Brow' justice. His defensive output against teams like the Rockets and Nuggets, especially the latter in which he was able to guard Nikola Jokic to a tee, was massive. The size advantage AD brings, combined with a resurgent Dwight Howard gives the Lakers a significant boost.
In the Finals, Davis has gone from strength to strength. Game 1 saw him lead the game in scoring with 34 points, along with 9 rebounds. His play, on and off the ball kept Bam Adebayo, who was clearly no match for him, occupied, which allowed for players like James, Caldwell-Pope, and others to take high-percentage chances. His defensive work in Game 1 cannot go unnoticed, with 3 blocks and him keeping the likes of Adebayo and Goran Dragić quiet for most of the game. LeBron James also had a decent game, averaging about 25-13-9, but it was Davis that stole the show.
ADVERTISEMENT
Article continues below this ad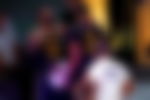 In Game 2, AD was unstoppable. He got 32 points, making 15 of his 20 shots. But more than that, it was his rebounding that helped the Lakers. He had 14 rebounds, of which 6 were offensive rebounds. This was huge for the Lakers, as they were able to get a total of 21 points just of second chances. 'The King' was able to get 33-9-9, but again, AD's work on defense and the glass put him ahead of James stood out in the game.
The 'Butler' of it all
Jimmy Butler stole the headlines in Game 3, as he posted a 40-point triple-double, only the third player in history to do so behind Jerry West and LeBron James. AD had a rough night, only getting about 15 points and 5 rebounds. LeBron had the better game, averaging almost another triple-double with 25-10-8, but without AD stepping up, LeBron's efforts were not enough to get the Lakers the win. Both AD and 'Bron turned the ball over a combined 13 times, and it was clear that if the Lakers were to bounce back, AD would have to step up.
ADVERTISEMENT
Article continues below this ad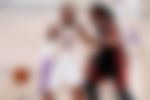 And step up he did come Game 4. AD took on the tough responsibility of guarding the in-form Butler. With 'Jimmy Buckets' having the game he did two nights before, this was seen as a challenging assignment for Davis. But he did a fantastic job on Butler, not letting him drive to the lane and forcing him to take more perimeter shots. Miami continued to fight back, and AD kept upping the stakes. On the other hand, the stats would suggest that LBJ had a great game, with 28-12-8 but 20 of those points only came in the second half. His first half was torrid, with Bron' turning the ball over numerous times and only getting 8 points. AD was able to get 22 points, while still defending the outright best player on the Heat.
So far, Anthony Davis and LeBron James have been averaging a similar number of points. But its Davis' work on defense that puts him ahead in the eyes of many in the race for Finals MVP. For those that argue that defensive output doesn't translate to finals MVP, just look at the 2014 and 2015 NBA Finals. Both Kawhi Leonard and Andre Iguodala, who weren't the best-attacking forces of their team, were able to bag Finals MVP for the defensive work they did that kept LeBron James quiet. And keep in mind that Leonard and Iguodala won these Finals MVPs when their teams had scoring monsters like Tim Duncan and Stephen Curry respectively. Anthony Davis has had a similar defensive output this series, while also putting up excellent scoring and rebounding numbers.
ADVERTISEMENT
Article continues below this ad
This isn't an argument about who is the best player on the Lakers (although I'm inclined to side with AD on that argument as well). It's about who deserves Finals MVP if-and-when the Lakers win the title. And unless LeBron James has a career game in Game 5 (or 6/7 should the Heat come back), Anthony Davis looks like the more deserving candidate between the two for Finals MVP.