"Can't Have Two Rebounds": Anthony Davis Takes the Blame For Game 3 Loss Against Nuggets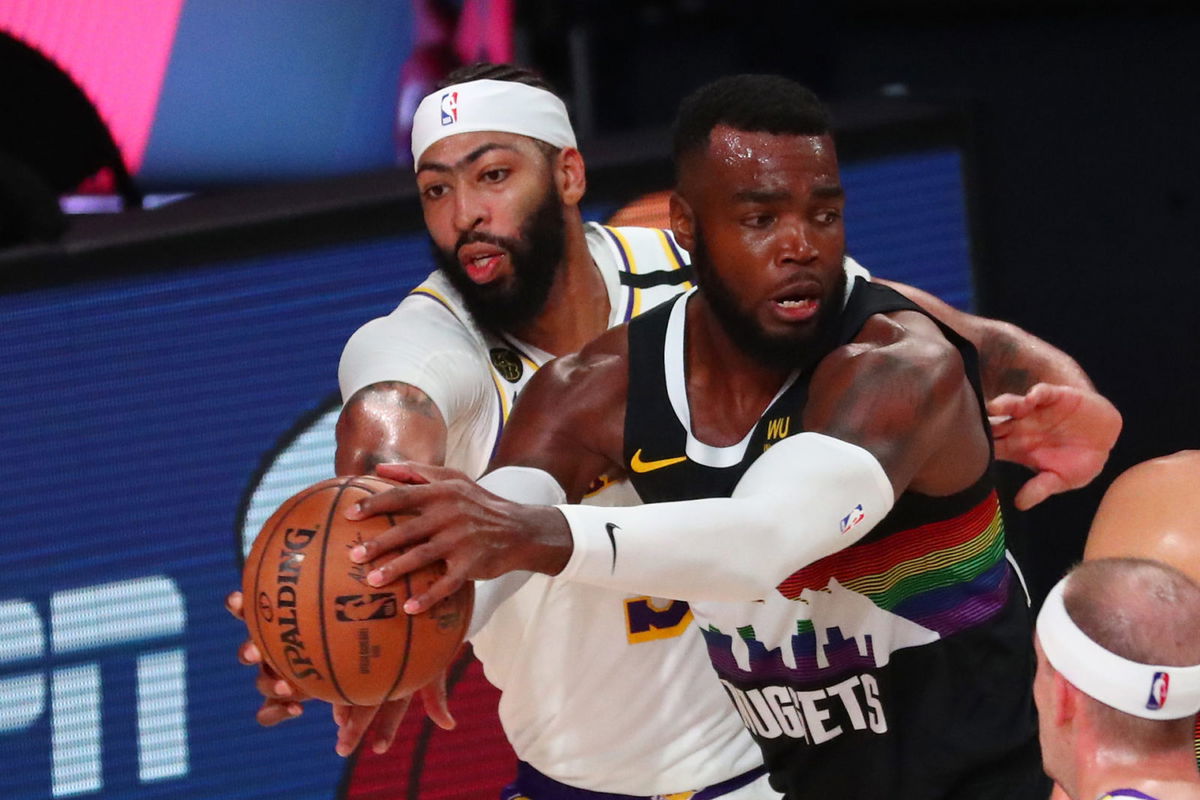 The Denver Nuggets have shown once again that they perform best with their backs against the ball. They were lagging behind the Lakers in the Western Conference Finals by 2-0. But the tables have turned, and it was a glory-filled night for the Nuggets. They showcased a greed to win, unlike the Lakers.
It seemed like the Lakers got too comfortable with their 2-0 lead and took a backseat this time. With that being said, Anthony Davis has some views on his disappointing contribution.
What went wrong, according to Anthony Davis
The Lakers lacked a lot of fighting spirit today, and the Nuggets made it tougher. Jamal Murray completely stole the show with his incredible 28 points and whopping 12 assists. Nikola Jokic, as usual, was creating magic all over the floor with 22 points, 10 rebounds, and 5 assists.
The Lakers failed drastically in showing any dominance in the first three quarters and were surely taken aback by the way the Nuggets played against them.
In a post-game interview, Anthony Davis agreed that the Nuggets were far more resilient. He stated, "First three quarters, they were more physical than us. They played with more desperation and they played harder."
Reflecting on his own performance, he said, "I have to do a better job on the glass personally. I can't have two rebounds for the entire game."
"I have to do a better job on the glass personally. I can't have two rebounds for the entire game." @AntDavis23 on his night on the glass and the #Lakers lack of aggressiveness to start the game. pic.twitter.com/5OwYORUcL6

— Spectrum SportsNet (@SpectrumSN) September 23, 2020
There is no doubt that Davis is one of the biggest stars in the Lakers and his buzzer-beater in game 2 landed them their initial lead. Yet, he and the remaining big players like Dwight Howard and JaVale McGee in total grabbed only four rebounds. Such a clumsy outlook at this crucial stage can cost them heavily.
Can the Lakers maintain their lead against the Nuggets?
The Nuggets were brilliant on both ends of the floor. Jerami Grant came up surprisingly big and dropped 26 points for them. The game picked up for them in the third quarter as they maintained a 20 point lead. When the Lakers were up 2-0, fans were hoping for a clean sweep but looking at the Nuggets' expertise in causing upsets, this dream can be put to rest.
Despite the threat every purple and gold fan is feeling from the Nuggets, Davis thinks they're still the one's in control. "We'll be fine." said Davis. Although let's not forget that this is exactly what the Clippers believed when they had a 3-1 lead and look where they landed.
Davis said the Lakers have to bring their 4th Q defensive effort from tonight starting in the 1st Q of Game 4. Added that they're up 2-1, and "We'll be fine."

— Mike Trudell (@LakersReporter) September 23, 2020