"Don't Know His Mindset": Lakers' LeBron James Reacts After Taking Jamal Murray's Elbow on Face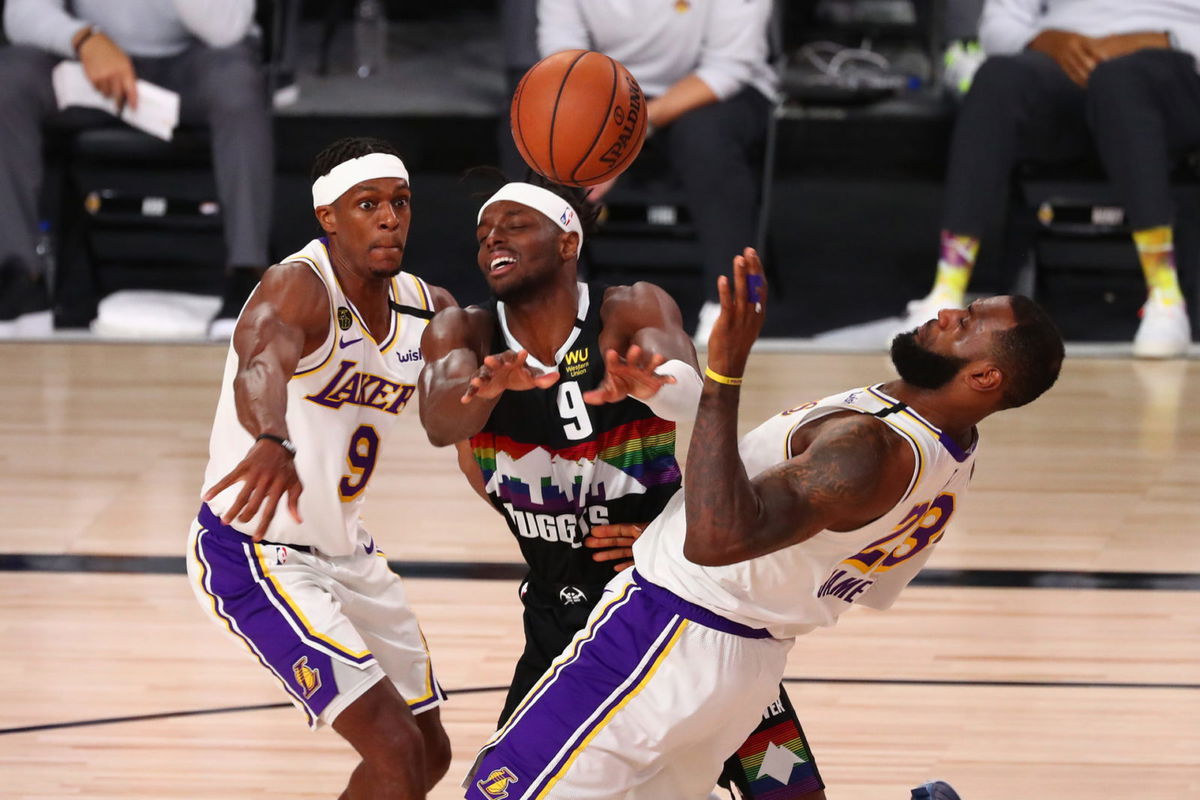 The Los Angeles Lakers lost it against the Denver Nuggets just eight minutes into the first quarter. The Nikola Jokic led Nuggets were very aggressive from the beginning and totally blew away the Lakers in the initial three quarters.
The Lakers had 16 turnovers in the game and were not very impressive from the paint. LeBron James looked good on stats as he scored a triple-double, but that alone could not make much difference. Something also happened to him in the third quarter that must have caused fans to skip a heartbeat.
[youtube https://www.youtube.com/watch?v=SH09tY8YdRY?start=3]
LeBron James took a massive blow, quite literally
The L-Train was looking increasingly dangerous as the game proceeded. However, just two minutes into the third quarter, he received a big blow to his jaw. Jamal Murray accidentally hit his elbow on Bron's face as he turned to get away from the set screening. The three-time NBA Champion was seen taking out his mouthpiece as he kept rubbing his sore jaw. Jamal was awarded a flagrant for this.
LeBron had a different say on the ruling when he spoke about it in the post-game interview. He said, "I was just setting the screen and his elbow got high and was able to strike me across the jaw. I don't care about Flagrant 1s or Flagrant 2s. I don't want him to come out of the game. I like the competition. I don't think it was blatant, but I don't know his mindset at all. But I don't think he did it on purpose. I was okay with it, went down for a little bit, got back up, and was ready to play. I was cool with the ruling. I was okay with them send a flagrant 1. I mean I'm here to fight." 
[youtube https://www.youtube.com/watch?v=mw1ZU2pdktM?start=437]
Only a legend of his stature would say something like this. There have been many occasions of a flagrant in the NBA Playoffs 2020, but nobody has made such a wise comment.
The Lakers failed at their defense
The fact that the Denver bench could play so well reflects poorly on the Lakers' defense. Players like Monte Morris and Michael Porter Jr. had a great game, and both had an FG% above 65. Anthony Davis failed to guard Nikola Jokic the way he has guarded other players in the league. The Lakers allowed Jerami Grant to score his best-ever NBA Playoffs score of 26.
A ray of hope began to show for the Lakers when they cut down a 14-point deficit in Q4 (85-99) to make it a three-point game (98-101). Rajon Rondo got back-to-back steals and helped by gaining some good possessions. But a very dominant Jamal Murray froze the Lakers as he converted some beautiful three-pointers and won the game for the Nuggets.
Sourabh Singh
All work and no play makes Jack a dull boy. I intend to make popularise my quote when I say sports define me better than I define sports. See ya'all Champs!