Lakers J.R. Smith Surpasses Kobe Bryant In All-Time Three-Pointers in NBA Playoffs
Published 09/19/2020, 2:07 PM EDT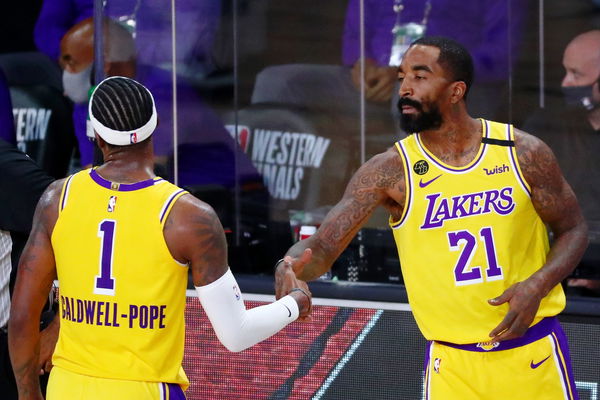 ---
---
The Los Angeles Lakers have been outshining every team throughout the series thanks to their consistency. Every player on the team is playing his part as desired and contributing in the best way possible.
ADVERTISEMENT
Article continues below this ad
After an entire decade, the Lakers have made it to the Western Conference Finals and they aren't going to take any team lightly because of what's at stake. During Game 1 against the Denver Nuggets, the Lakers destroyed them, ending with a 126-114 score.
However, that's not the only cause for celebration. The Lakers' small forward crossed Kobe Bryant in the all-time playoff triples made.
ADVERTISEMENT
Article continues below this ad
 J. R. Smith achieves milestone by crossing Kobe Bryant
This did not come as a surprise because, in Game 4 against the Portland Trail Blazers, Smith first tied with the Legend in all-time three-pointers made in the Playoffs.
Smith achieved his 292nd three-pointer, coming at par with Kobe. And now, with the Playoffs en route, that day was not far when he would surpass Kobe.
JR Smith tied Kobe Bryant on the all-time list for playoff 3's made just now here on 8/24, which will surely be meaningful to Smith, who spoke glowingly yesterday about how much he loved and admired Kobe.

— Mike Trudell (@LakersReporter) August 25, 2020
By the time the game entered the fourth quarter, the Nuggets were done for. It was time to bring off players from the bench and that's when J. R. Smith stepped in. He played only 4 minutes in total, but his single three-pointer was enough to transcend the legend's score.
He now stands 9th on the scoreboard of all-time triples made in the Playoffs.
Have a look at the historic moment:
ADVERTISEMENT
Article continues below this ad
Are the Lakers moving towards a championship trophy?
The way the Lakers have battled out every round, it's impossible to not consider them as this season's champions. Anthony Davis dominated the offense in this game by scoring 37 points,10 rebounds, and 4 assists. If the Nuggets want to stay alive in the remaining series, they need to find solutions to contain him.
ADVERTISEMENT
Article continues below this ad
Dwight Howard's defense was phenomenal, and him manning Nikola Jokic was the best decision. Jokic and Jamal Murray are the two key players of the Nuggets. They're the only ones who are holding the fort, but they faced some foul trouble in this game.
This is where the Lakers proved to be more deserving because all of their players played tremendously well. Jokic and Murray won't be able to hold out very long.