"That's Gigantic": Lakers' LeBron James Points Out the Most Unrecognizable Thing About James Harden
Published 09/04/2020, 10:22 AM EDT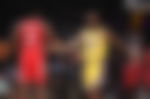 ---
---
The battle for a place in the Western Conference Finals between LA Lakers and Houston Rockets will begin on Friday. Both teams have two dynamic stars leading the pack in the Playoffs. However, the LeBron James and Anthony Davis duo have the odds in their favor.
ADVERTISEMENT
Article continues below this ad
The Lakers are well-rested as they advance for the second round in just five games. On the other hand, it took Harden and Westbrook seven games to beat OKC just on the brink.
In a media conference, King James was asked about his thoughts on James Harden. Bron made some very positive remarks about Beard's game style.
ADVERTISEMENT
Article continues below this ad
"James is no.1 in our league in free throw attempts and free throws made, been like that for the last five years probably, if not more," said LeBron.
"I think what people get lost in translation with James is how available he is to his teammates night in and night out. If you look at how many games he plays per year and how many minutes he plays throughout the course of his career, pretty much he has always been available, he's always been in uniform, and he has been doing this at a high level for a lot of years.
"I think that's what kinda get lost in translation cuz everybody kinda looks at that euro step and stepback threes. But when you are available to your teammates, that's gigantic to any sport or any craft or anything that you are doing at life. When you are just available to someone, they know they can always count on you, I think that's pretty much one of the best things that people don't recognize," concluded James.
Do LeBron James and the Lakers have an advantage over the Rockets?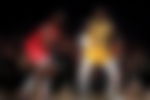 It is true that James Harden puts up unreal numbers each season with heavy minutes. Moreover, the fact that his work ethic goes unnoticed is bizarre. Harden is one of the most hardworking players in the league, and has been phenomenal for the Rockets throughout his career.
ADVERTISEMENT
Article continues below this ad
On Friday night, Russell Westbrook and James Harden will face LeBron James for the first time in almost a decade. The last time fans saw this matchup was back in the 2012 NBA Finals. Where the Miami Heat defeated OKC in just five games.
Knowing Westbrook and Harden, they must look for redemption against the three-time NBA champion. But do they have the roster to overcome the Lakers? Well, at first glance the series might look pretty even.
However, the Rockets struggled against OKC, who didn't have a remarkable big man apart from Steven Adams. The Lakers trio of Anthony Davis, Dwight Howard, and JaVale McGee could give the Rockets' small-ball lineup a run for their money.
ADVERTISEMENT
Article continues below this ad
So the Lakers definitely hold an advantage over the Rockets on the defensive end of the court. But they are evenly matched up on the offense.