Was Marcus Smart Correct For Lashing Out On Boston Celtics Teammates?
Published 09/19/2020, 1:10 PM EDT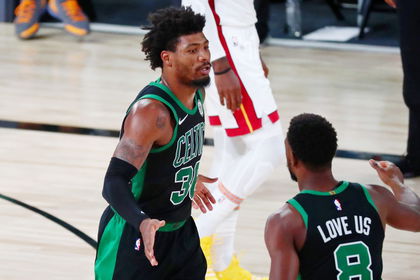 ---
---
The Boston Celtics fell to a 2-0 series deficit at the hands of the Miami Heat. While Boston was one of the hottest teams in the bubble, they allowed the Toronto Raptors to fight their way to a Game 7 against them.
ADVERTISEMENT
Article continues below this ad
They have now dropped two consecutive games in the Conference Finals.
Marcus Smart is screaming at someone in the Celtics locker room — or several people. The yelling continues as Smart exits the locker room, swearing.

— Malika Andrews (@malika_andrews) September 18, 2020
ADVERTISEMENT
Article continues below this ad
ESPN reported that there was a massive fight in the Boston locker room after the Game 2 loss. They pointed out that Marcus Smart was yelling at his teammates. Despite members of the Celtics downplaying the issue, there is a clear disconnect between the players.
However, was Smart right for dressing his teammates down like that? Here is what we think.
Boston Celtics: Unraveling or healing?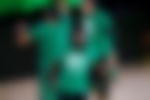 You cannot say Smart was wrong for what he did. Every locker room has its moments of tension. Many players would argue that locker rooms that don't argue are the ones that don't win.
Evidently Smart was heated at how the Celtics let the game slip, while also not appreciating the backlash he received on a poor three-point shot. It's a high-stakes game and tempers are bound to boil over.
However, the larger concern would be what Brad Stevens' role in this situation was. Stevens has long been regarded as one of the better coaches in the NBA for leading Boston to multiple successes.
However, he failed to influence the locker room positively during the Kyrie Irving conundrum. Now he is taking a backseat, yet again, while players like Smart are getting into heated confrontations with teammates.
ADVERTISEMENT
Article continues below this ad
A coach's job is to nip dissent like this, so it will be interesting to see how he helps his locker room reunite.
ESPN Sources: Brad Stevens had a late night Thursday meeting with Celtics leaders – Kemba Walker, Jayson Tatum, Jaylen Brown and Marcus Smart – to work through emotions of post-Game 2 locker room. A lot of yelling in locker room, but nothing escalated to a physical confrontation.

— Adrian Wojnarowski (@wojespn) September 18, 2020
ADVERTISEMENT
Article continues below this ad
Boston are a young team, but have been together for a while now. Outside newer additions like Kemba Walker, the team has shared a lot of heartbreak over the course of the last few seasons. They have come close again but will hope to finally break the hump and see their first NBA Finals since 2010.