"Went in the Same City as LeBron James": Former NBA Champion Destroys Kawhi Leonard for Joining Clippers
Published 09/17/2020, 6:00 AM EDT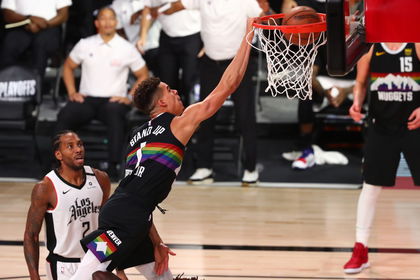 ---
---
Kawhi Leonard, despite having a great season individually, could not guide the Clippers to a win. He had previously won titles for the San Antonio Spurs and the Toronto Raptors, but failed to replicate that with the Los Angeles side. 
ADVERTISEMENT
Article continues below this ad
The Claw was the overall 15th pick in 2011 and has since appeared in six consecutive NBA Playoffs for the Spurs. It was only his quadriceps injury stopped him in 2018 when he played only nine games for the Spurs and later joined the Toronto Raptors. However, he had his career-best season with them.
Kawhi Leonard is facing the heat left, right, and center!
ADVERTISEMENT
Article continues below this ad
NBA analyst Kendrick Perkins in an interview raised questions about Kawhi's decision to leave the Raptors. He noted, "It was a tragedy! You know why? Because the man Kawhi, not only did he have an organization, a city, but he had a country in his hands in Canada. They wanted to give him the world. He had a great supporting cast. You talkin' 'bout he joined a team that was a #1 seed when he joined Toronto when he was traded from the Spurs. He had everything he wanted in Toronto." He specifically mentioned that the Raptors had veterans like Kyle Lowry, Serge Ibaka, and Marc Gasol to back Kawhi.
Kawhi also had super loyal fans to whom he was a king, for the man gave them their maiden NBA Championship. His move to a more competitive western conference was perhaps not a good business move. As Kendrick later added, "Not only did he go to the western conference, but he went in the same city as LeBron James and said 'I'm gonna go against you' and who did he go and get? Paul George, Paul George!" It was a make or break for Leonard and unfortunately, the latter happened.
ADVERTISEMENT
Article continues below this ad
Leonard possibly left the Raptors to play for his hometown, but now everyone can question that decision.
The Clippers could not make proper use of a two-time champion!
The 29-year-old had just two games south of 23 points in the 13 playoff games he played this season. He also recorded 9.3 rebounds, 5.5 assists, and 2.3 steals with an FG% of 48.9. These numbers could not be of much help because he lacked enough support from an otherwise strong team. 
ADVERTISEMENT
Article continues below this ad
The LA Clippers were ranked #2 in the overall offensive ranking, but they failed miserably against the Denver Nuggets. It was as if their hands were tied, especially in game 7. Montrezl Harrell and Lou Williams failed to bring up a strong defense while Paul George remained extremely inconsistent throughout the playoffs. Kawhi alone could drag this team only so far, and hence the result. The organization put their future picks on stake to sign PG and Kawhi last season. Now they must restructure the team to give Kawhi his reliable Robin.