Damian Lillard Details What Denver Nuggets Should Expect From Los Angeles Lakers
Published 09/18/2020, 12:56 PM EDT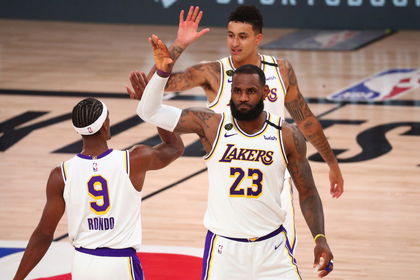 ---
---
On a regular day, all would all think there is no way the Denver Nuggets stand a chance against the dominant Los Angeles Lakers. However, watching the Nuggets' journey to reach the Western Conference Finals, one can't possibly rule out their chances of winning. They have fought tooth and nail against every competitor and have overcome a pressurizing 3-1 deficit twice. If the Lakers even try to take the Nuggets lightly after that, they are in for trouble.
ADVERTISEMENT
Article continues below this ad
The Portland Trail Blazers may be out from the playoffs run, but their star player Damian Lillard has some interesting insights into the WCF matchup.
Which side will Damian Lillard be leaning on more?
ADVERTISEMENT
Article continues below this ad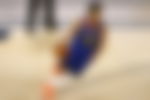 In a recent interview with Stephen A.Smith,  Lillard was asked some hard-hitting questions. "Between the Lakers and the Denver Nuggets, who are you favoring? What do you think is going to be necessary to get to the finals?" inquired Smith. While it is a tough choice to make, Lillard stated, "Like anybody else, I would favor the Lakers."
Nevertheless, Lillard complimented the Nuggets for their resilience. He said, "But you gotta respect Denver. I think what Jamal Murray has been doing, Jokic, the way he passes the ball and scores the post, makes threes, just a crafty big man. He's trouble for anybody especially when he's doing everything."
Coming back to the Lakers, he elaborates on how the Lakers go about their game. "But I think what the Lakers are throwing out there against the Rockets and they did it against us, they show attention to the guards. If you're a scorer or a dominant guard, they're not going to allow you to play freely. They're going to send bodies your way, they're going to make you play against a crowd. I think that's what Jamal Murray should expect. I saw it, James Harden saw it and I think he'll get the same thing."
ADVERTISEMENT
Article continues below this ad
Who will man the Nuggets' stars from the Lakers?
Lillard also strategically discussed how the Lakers can go about their defense and which player is capable of marking whom. "I also feel AD is capable of guarding Jokic or at least giving him a hard time with his length and athleticism. Then you got JaVale McGee and Dwight Howard, (who) you can put on him. Even LeBron can take some reps on him. They have bodies and people with the ability to give him a hard time." said Lillard. Not completely negating Denver's chances, he concluded, "But Denver move the ball, they play together, they've got that spirit and they're going to have a chance."
One one side we have Jamal Murray and Nikola Jokic leading the Nuggets and the fate of their entire team resting on these shoulders. On the other hand, we have the LeBron James and Anthony Davis duo. What sets the Lakers apart is that they also have other players to support them. Either the two stars from Nuggets will be a pain for the Lakers alone, or the Lakers will overpower them with ease.
ADVERTISEMENT
Article continues below this ad