Los Angeles Lakers Head Coach Details the Role and Expectations from New Additions J.R. Smith and Dion Waiters
Published 08/01/2020, 3:30 PM EDT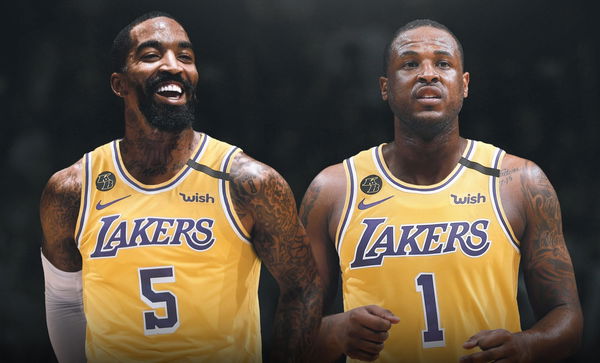 ---
---
Los Angeles Lakers were criticized for not deepening their guard rotation around the squad deadlines in February. They failed to pull off a trade for Detroit Pistons guards Derrick Rose or Reggie Jackson, with Jackson making his way on to the Clippers instead. They also failed to tempt Darren Collison to return after his retirement at the start of the season.
ADVERTISEMENT
Article continues below this ad
This led to some creative filling by the Lakers. They first signed Dion Waiters, a man who had been released from the Miami Heat for his off-court struggles. After Avery Bradley opted out of the restart, the Lakers called LeBron's old championship teammate J.R. Smith to return to the NBA. The pair are notorious for wildly inconsistent play, but the restart has shown the best of them.
Both Dion and J.R. have shown an ability to contribute in a major way for the title contenders. Dion scored 11 points off the bench to help the Lakers close in on a victory against the Clippers. J.R. had a cameo appearance in that game but had strong showings in the pre-season scrimmages.
ADVERTISEMENT
Article continues below this ad
Coach Frank Vogel has spoken highly about the pair to the media, saying, "I think they've had really strong bursts. Today was probably the best day for both of them. We know they're talented. For me, it's been an opportunity to shape their play the way we want them to fall into their roles. Their roles are different."
On Dion, he said, "For Dion, to be very aggressive touching the paint, trying to get to the charge circle, making good reads."
ADVERTISEMENT
Article continues below this ad
Los Angeles Lakers and the depth for a title run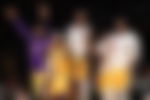 The Lakers' depth has been criticized all year for not having enough talent. They have gritty veterans that are past their prime, with the team relying on the I.Q. of all the players to lead them to the championship. They also do have LeBron James, who has dragged worse teams than this to the Finals single-handedly. Better yet, he has Anthony Davis this time.
ADVERTISEMENT
Article continues below this ad
The Lakers will call upon Dion and J.R. to use their experience and lead the second units of the Lakers offense, at least until Rajon Rondo returns from injury. They are capable shooters and defenders, so they should be nice additions to the roster in the playoffs.
Source: The Lakers Review, NBA Stats, Lakers Nation