"Phil Jackson and Greg Popovich": Warriors' Steve Kerr reveals his influences as a head coach
Published 09/02/2020, 11:54 AM EDT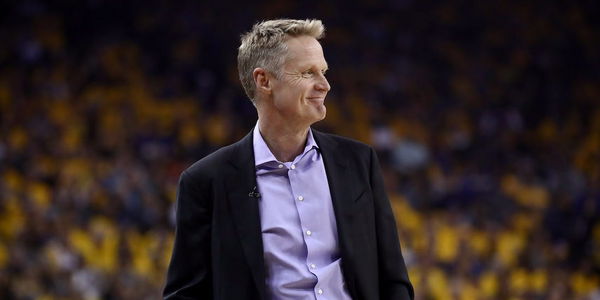 The Golden State Warriors have been phenomenal in the last five years or so. Prior to the 2019-20 NBA season, they made five consecutive finals trips and won three of them. The mastermind behind this superteam is none other than Steve Kerr.
Kerr joined the Warriors as head coach back in the 2014-15 NBA season. At that time, the Warriors trio of Stephen Curry, Klay Thompson, and Draymond Green started to show their potential. Steve Kerr was the missing piece and his addition elevated the team as they won an NBA championship in his first year as GSW head coach.
However, this was nothing new for Kerr, who won multiple championships during his playing years. Moreover, Kerr played with two of the best coaches of all time in Phil Jackson and Greg Popovich.
ADVERTISEMENT
Article continues below this ad
The Warriors head coach talked about their influence on himself as an NBA coach with Tottenham Hotspurs' Eric dier. Kerr also revealed his thoughts on becoming an NBA coach one day during his time as a player.
"I did think that I would get into coaching while I was playing, I thought that someday I would coach. I would say that the two coaches who have influenced me the most with what I do in Golden State every day at practice, with our team are Phil Jackson and Gregg Popovich."
"Sometimes I'll find myself even using phrases and expressions that Phil used or Pop used. I have been very lucky to be influenced by the very best," added Kerr.
Will Steve Kerr and the Golden State Warriors bounce back next season?
ADVERTISEMENT
Article continues below this ad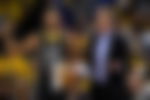 Steve Kerr is a great coach, there are no second guesses in that. But there is only so much a coach can do without his superstar on the floor. In 2019-20, the Warriors had to deal with injuries to both Steph Curry and Klay Thompson.
Moreover, Kevin Durant already left the team to join the Nets in free agency. To make things even worse, the experiment with D'Angelo Russell failed as well. As a result, the Warriors finished at the bottom of the barrel with a record of 15-50.
ADVERTISEMENT
Article continues below this ad
However, there is a silver lining for Golden State with this disastrous season. They earned the #2 pick in the 2020 NBA draft, which will pair a decent rookie with Steph, Klay, Draymond, and Andrew Wiggins.
In fact, Steph got a much-needed rest after playing non-stop for the last five seasons. Next season the Warriors will be fresh and will be heavy favorites to lift yet another NBA trophy during Kerr's reign.