Philadelphia 76ers Readying a Big Move on Houston Rockets and Indiana Pacers' Front Office: REPORTS
Published 09/17/2020, 6:00 PM EDT
The Philadelphia 76ers were expected to make some strides in the 2019-20 postseason. But surprisingly, the team not only underperformed, but were also clean swept by the Celtics in the opening round!
ADVERTISEMENT
Article continues below this ad
Following their disastrous playoff run, the 76ers front office sacked Brett Brown after seven years of service. Now, the team is on a hunt for a new head coach to fill in his shoes. As per Sixers reporter Keith Pompey, the ownership may make some changes in the front office as well.
The Sixers are particularly searching for a president of basketball operations to revamp their front office structure.
ADVERTISEMENT
Article continues below this ad
"A source also believes the Sixers will attempt to inquire about Houston GM Morey and Indiana Pacers president of basketball operations Kevin Pritchard. The source, however, believes it's unlikely that they would be interested," says Pompey.
Apart from Daryl Morey and Kevin Pritchard, the Sixers are allegedly interested in Neil Olshey. However, Olshey wants full control of the president as well as managing duties. Knowing the Sixers ownership history, they are unlikely to give a candidate full power.
In fact, one of the biggest reasons the ownership hired current GM Elton Brand was that he agreed to work in collaborative decision making. However, if the 76ers expect good results from the team, giving a POBP full power could be their best bet.
What's next for the Philadelphia 76ers?
ADVERTISEMENT
Article continues below this ad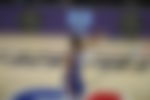 The 2020-21 season will be crucial for both the 76ers and their stars, Joel Embiid and Ben Simmons. The duo had a fantastic regular season, but couldn't reiterate the same success in the Playoffs, as Simmons was out from the roster due to a knee injury. On the other hand, Embiid produced great stats, but was unable to lead the team.
Tobias Harris and Al Horford also looked like shells of themselves against the Celtics. Furthermore, both Harris and Horford have massive contracts and it affects the 76ers cap room to bring in more talent.
ADVERTISEMENT
Article continues below this ad
If the team repeats this disastrous performance next year, maybe it's time to make some changes in the roster. The Simmons-Embiid experiment has not generated results for the team. Moreover, when both players are on the floor, the floor spacing deeply suffers.
Adding that to Simmons' inability to make three-pointers just makes things worse for the team. What do you think? Should the 76ers completely revamp the team? Or should they give yet another shot to the current system?