The NBA Legend Who Changed the Game Even Before Michael Jordan or Kobe Bryant Set Afoot
Published 05/06/2020, 1:31 PM EDT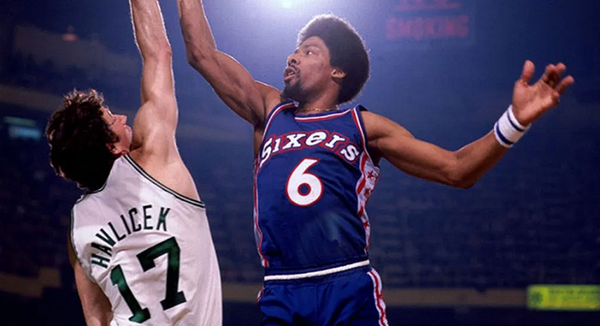 ---
---
The NBA community believes that stars like Michael Jordan, Kobe Bryant and LeBron James did a lot for the game of basketball. However, we might be forgetting the real OG, Julius Erving alias, Dr. J!
ADVERTISEMENT
Article continues below this ad
Julius Erving and his legacy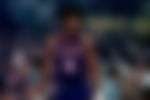 ADVERTISEMENT
Article continues below this ad
The NBA community credits Dr. J for providing the league with an element of coolness and creativity. He may not have done all those crazy moves on purpose, but he sure kept them coming.
Dr. J gave the game new moves and set examples for future generations. One such move widely celebrated all over the community is his iconic baseline reverse scoop. We take a look at the day Erving wowed the world with his aerial prowess.
After Erving joined the NBA Philadelphia 76ers, he received the attention and appreciation he deserved. His style of play became legendary and his decorative moves above the rim gained national acclaim.
His ability to dunk the basketball from seemingly impossible positions and with dramatic gyrations especially stood apart and stunned fans and sportswriters.
He was so good at dunking from the free throw lines that he had an entire term coined after his moves. The word Posterized became a slang derived from Erving's action in the game where the offensive player "dunks" over a defending player in a play that is spectacular and athletic enough to warrant reproduction in a printed poster.
The day Julius Erving walked on air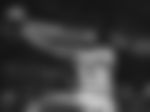 An iconic incident took place during Game 4 of the 1980 NBA Finals between the Philadelphia 76ers and Los Angeles Lakers. There were 7:35 minutes left and Erving was about to add another signature play to basketball history.
As Erving's defender, Mark Landsberger, got into his defensive position, Julius Erving had already passed by him and on his way to the basket.
Using a dribble to beat Landsberger to the baseline, Erving took flight for what initially appeared to be an easy dunk or layup. Then, it seems, he stayed in the air! Video evidence of the incidence makes it look as if he were walking in the air.
That basket put the 76ers ahead 91-84 and gave Erving two of the 10 points he scored in the final 7:42 of the contest. He finished with 23 points, 5 rebounds and 3 assists. The team won 105-102.
Talking about the incident, Erving told the Los Angeles Times, "The best move from there is straight to the hoop and dunk it, but I saw Kareem coming over. I tried looking for Darryl Dawkins. I figured Darryl might be rolling to the hoop since Kareem was guarding him. But I couldn't find him.
"So I held the ball out of the traffic while I looked [in midair.] Then I saw a chance to reach in. Kareem wasn't jumping. I put it on the board. It just went in."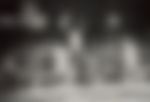 Praise for Erving's aerial move
He might not feel much about the move but it did baffle his colleagues. In an ESPN video, quite a few of the NBA legends shared their comments on the move.
Magic Johnson seemed truly mesmerized. "He did a move which is the all-time greatest move I've seen. When we started cutting him off baseline, he started walking in the air.
"He got the ball in one hand. We said he got to come down. There's no way he can stay in the air that long! We said we'll ask him to do it again, we've never seen anything like that before. It was crazy!" Magic recalled.
ADVERTISEMENT
Article continues below this ad
76ers legend World. B. Free said, "His arms stretched all the way like a rubber band. The crowd went crazy!"
Philadelphia Sports Anchor Howard Eskin said, "Did he just do that? Really? Did he just do that?!"
These legends all have reactions that visibly depict their astonishment and absolute awe at the move. Julius Erving's fire moves definitely deserved the kind of attention they were getting.
ADVERTISEMENT
Article continues below this ad