Devin Booker Dad; Who is Melvin Booker and Did He Play in the NBA?
Published 07/05/2021, 1:39 PM EDT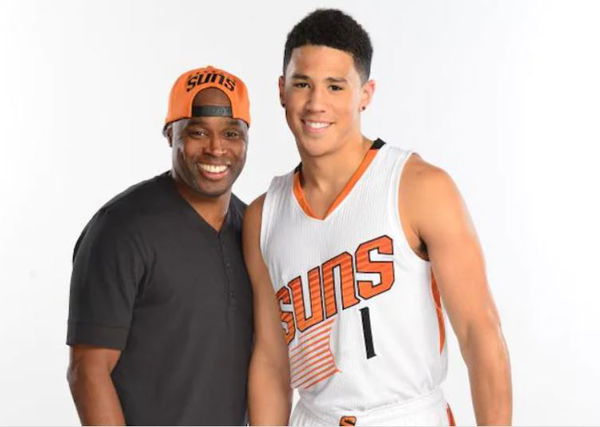 ---
---
Against all odds, Devin Booker and the Phoenix Suns have sealed a spot in the upcoming NBA finals. They will face Eastern Conference champions, Milwaukee Bucks, in what promises to be a real clash of underdogs. Who'd have thought NBA journeyman Chris Paul will be playing his first NBA finals with the Suns?
ADVERTISEMENT
Article continues below this ad
Regardless. Devin Booker picked up right where he left off last season. He put up a few dazzling displays in the regular season as the Suns made the playoffs. The Arizona-based franchise were true giant slayers in 2021 defeating the likes of Los Angeles Lakers, Denver Nuggets and Los Angeles Clippers en route to the finals.
ADVERTISEMENT
Article continues below this ad
Booker has made headlines week-in and week-out since making an impact at last year's NBA bubble in Orlando. He will definitely be pivotal for Phoenix as they take on the Bucks. But Devin has one man to thank for helping him reach these heights, his father and former NBA player, Melvin Booker.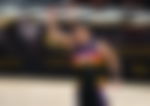 Who is Devin Booker's father, Melvin Booker?
Mississippi-born Melvin Booker was a professional American basketball player during the last 90's and the dawn of the 21st century. The former Missouri Tigers player made a name for himself while playing in the Canadian Basketball League between 1994-96. He featured for the Hartford Hellcats, Pittsburgh Piranhas and Grand Rapids Mackers, during his time up north.
He went on to feature in the NBA the following season. He played for the Houston Rockets and Denver Nuggets in 1995-96 before moving to the Goldent State Warriors a year later. Following that, Melvin moved to play basketball internationally in Italy, Turkey and even Russia.
Melvin met Veronica Gutierrez during his time in Canada. The pair gave birth to Devin Booker. They never married but Veronica took care of a young Devin while his dad played basketball across Europe.
ADVERTISEMENT
Article continues below this ad
Mr. Booker senior has been a leading light in the life of his son, Devin. The up-and-coming Phoenix star is earning plaudits after two epic seasons with the Suns. He has a shot at winnning his first NBA Championship ring later this month.
The only thing that stands between him and his ultimate goal is a determined Milwaukee Bucks outfit, that may or may not feature NBA's golden boy, Giannis Antetokounmpo. This battle is one for the ages for sure!
ADVERTISEMENT
Article continues below this ad