Blazers Star Damian Lillard Sure of Becoming a Hall of Famer But Not for Basketball
Published 09/08/2020, 7:00 AM EDT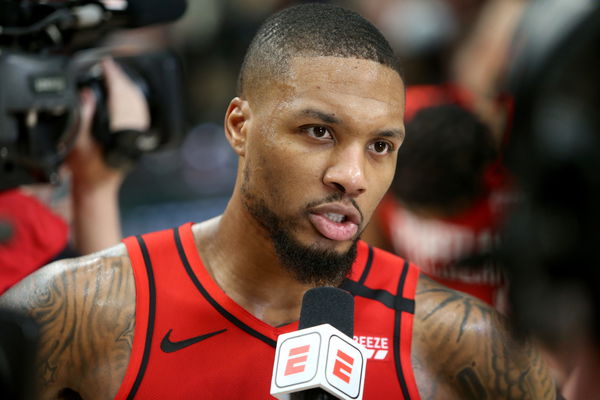 Damian Lillard recorded the best season of his life for the Blazers in 2019-20. He played 70 games (regular + playoffs) and averaged 29.7 points per game. One cannot forget his 34 points both in the first and the third game against the Los Angeles Lakers in the NBA Playoffs 2020. 
So is there anything we can specifically attribute this success to? For sure he has put in an extreme level of hard work and hustle to reach these heights. But something remarkable happened in his life in 2020.
He proposed and got engaged to his longtime girlfriend and the mother of his son, Kay'La Hanson, earlier this year. Evan Turner and Tim Frazier were also in attendance at the event.
ADVERTISEMENT
Article continues below this ad
The Portland Trail Blazers star is leading a healthy personal life
The Blazers put on a brave show in the Orlando Bubble seeding games as they won 7 out of 9 games to enter the Playoffs. Damian's 61 point game against the Mavs became one of his career highlights.
But during the playoff series, he dislocated his finger and a knee sprain. As a result, he left the bubble after Game 4. 
However, it awarded him an opportunity to meet his son, whom he was missing (as he mentioned on Insta) since the initial days in the bubble. Recently, he uploaded an adorable post and wrote in the caption, "I know one job I'll make the Hall Of Fame for!"
The 30-year-old Big Game Dame and his 28-YO fiancée first met at Weber State University in Ogden, Utah. They welcomed their first kid on March 29th, 2018. They named the baby Damian Jr to extend the legacy of this star basketball player. The Portland star was fortunate to have celebrated his son's 2nd birthday with no pressure of the NBA on his mind (the league was on halt because of COVID-19). 
Good news for the Lillards is coming in bundles!
ADVERTISEMENT
Article continues below this ad
Just a week ago, both Dame and Kay'la posted on their respective accounts that they're expecting twins. Now, they revealed this by sharing a very creative picture wherein Damian Jr was carrying a green bud with a pair of peas inside it.
Dame captioned it, "I'm a DADDY DADDY now [smileys]… happy for another boy but this girl gone hit different."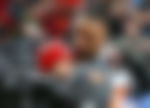 ADVERTISEMENT
Article continues below this ad
Damian Lillard was the Rookie of the Year 2013 and has been a five-time all-star. He has remained with the Blazers ever since he was picked overall sixth in the 2012 NBA Draft. He signed a four-year and $196 million worth contract extension with the franchise as well.
It is obvious that he knows that becoming a true Hall of Famer means becoming a wonderful dad and a respectful husband. But chances are that he will find his way to the NBA Hall of Fame as well.