"Pupper Master Game" NBA Legend Reveals What Makes Luka Doncic Dominant
Published 09/15/2020, 3:30 PM EDT
---
---
Luka Doncic has had a momentous rise in the NBA. He has achieved a lot in just two seasons, and is showing signs that he may dominate for years. Doncic has no obvious athletic ability, but one of the smartest minds for the game. He can read a game as well as any vet can, and he is also a quiet athleticism about him which allows him to drive and score.
ADVERTISEMENT
Article continues below this ad
NBA Legend and former Washington Wizards' Gilbert Arenas has noticed Doncic and had this to say to Fubo Sports.
ADVERTISEMENT
Article continues below this ad
"Luka has the advantage over anyone who's guarding him because these guys are too athletic for this part of the game. Open court? You got him. Half-court when you need to be disciplined, you never learned it."
Further, he said, "He plays the puppet master game with you. That's why fundamentals are important especially at a younger age. You need the fundamentals before your athleticism kicks in. Before the athleticism kicks and before the athleticism takes over… The first thing you need to teach him is his footwork before his jumping ability kicks in, because once a person can jump and dunk, that's all he wants to do. Now, he doesn't wanna learn the 1-2-pump, he don't wanna learn that. He just wants to rocket ship."
Luka Doncic and his subtle dominance
ADVERTISEMENT
Article continues below this ad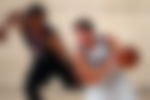 Doncic has a nearly flawless offensive skillset. He is an adept scorer and already one of the best distributors in the league. He orchestrated Dallas into becoming one of the greatest offensive teams of all time. He led the Mavs, who were long-shots to make the Playoffs, to six games in their first-round series against the LA Clippers.
Doncic plays like a seasoned pro, despite being just 21 years old. There has been no talent like him enter the NBA. Even LeBron James wasn't this fundamentally sound. Doncic dominates by creating a situation where every single player around him is a threat.
ADVERTISEMENT
Article continues below this ad
Maybe that is the most dominant one can be.