Ranking the Worst 5 Moves of the 2020 NBA Free Agency
Published 11/28/2020, 2:30 PM EST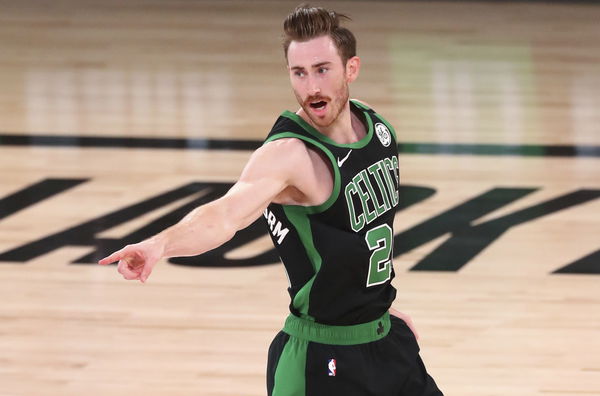 The 2020 NBA offseason took everyone by surprise as it included a few unexpected signings. Teams splashed money for athletes who might not deliver at the expected level. There's plenty of transactions to look into, but here are the five worst moves during the 2020 offseason. 
Five worst moves during the 2020 NBA offseason
This list isn't restricted to free-agent signings. Of course, a few teams could have re-signed their players, but they chose to let them go. This might come to haunt them in the future, but let's not worry about a shot that hasn't been taken yet! 
ADVERTISEMENT
Article continues below this ad
Gordon Hayward signing with Charlotte Hornets
We aren't blaming the Boston Celtics for letting go of Hayward. In fact, it would have been a disaster if the Cs had paid Hayward $30 million a year to keep him intact. Hayward made just over $90 million in three seasons with the Celtics, but there really isn't a case to re-sign him for a lavish sum. 
That's where the Celtics played the smart game and let him walk away. The Hornets might be in need of a player like Gordon Hayward, and he will take up Miles Bridges' starting spot next year. He is a talented forward to have, but just not worth shelling out $120 million for four years. 
Charlotte has already had to waive Nic Batum to create cap space to pay Hayward. Assuming that Batum was already a burden to their salary cap, it can be deemed as a right move by the management. But can Hayward fulfill expectations as a Hornet remains to be a question! 
LA Clippers letting Montrezl Harrell sign with the Lakers
The Clippers acquired 6'7" Harrell from the Houston Rockets when they traded Chris Paul. Though he never earned starting privileges, the North Carolina native was a massive contributor coming off the bench. His recent NBA Sixth Man of the Year award is a testament to his value. 
Now, how would you react if a team fails to retain a player who is the most effective bench player in the NBA? That's just how the LA Clippers messed it up. Even worse, they let him walk away to their rivals, the reigning champions Los Angeles Lakers. 
Harrell is an energetic player and can always prove to be an excellent asset to have on the team. The fact that the Clippers failed to hold onto him during his prime is the worst move one can think of this year. 
Oklahoma City Thunder trading Kelly Oubre Jr. to the Warriors 
OKC is in for a massive rebuild and they are giving up too much in return for draft picks! The internet is taking a dig at them for owning several future assets that nobody knows about yet.
The team is sorted in draft picks till 2027, and they added to the tally by receiving two picks for the 2021 draft in return for sending Kelly Oubre Jr. to the Golden State Warriors. 
OKC received Oubre Jr. from the Phoenix Suns where he thrived for the past two seasons. They got him in the Chris Paul deal but instantly sent him packing to the Bay Area for two draft picks. 
It is a shame because the left-handed shooter was really evolving his game and would have fit into the Thunder's young core next season. 
Denver Nuggets letting go of Jerami Grant
The Nuggets lost a talented forward in Jerami Grant when he signed with the Pistons during the offseason. He walked away as a free-agent and declined a player option that was available. He signed a three-year $60 million deal with the Pistons, which was a huge upgrade from what he was paid in Denver. 
ADVERTISEMENT
Article continues below this ad
Grant is a promising talent and the Nuggets would have preferred to retain him, but things didn't go on the happy road. There were rumors about a new deal, but that didn't happen. The Nuggets have really lost a valuable talent. 
LA Clippers signing Marcus Morris on a long-term deal 
The Clippers are at it once again! They might be the biggest losers during the offseason owing to their distressing moves. They retained 31-year-old Marcus Morris on a 4-year $64 million deal and that is huge! 
ADVERTISEMENT
Article continues below this ad
Lots of money, but is Morris worth it? He's been a contributing factor in his previous destinations but the Clippers might've made a hasty move. 
The move was announced after Harrell joined the Lakers, and it just doesn't add up. Committing to Marcus Morris on a four-year deal seems like a stretch too far.