"Westbrook and Harden Don't Want to Play With Each Other": More Details Emerge of Houston Rockets' Troubles
Published 11/12/2020, 1:48 PM EST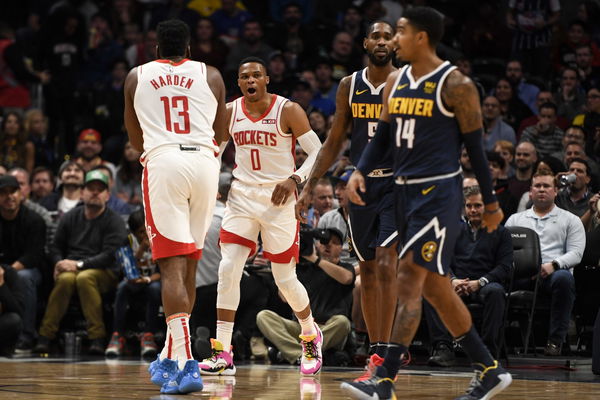 ---
---
ESPN journalist Stephen A speculated that Russell Westbrook and James Harden do not want to play with each other. Smith on the show First take said, " They dont wanna with each other anymore, Russell Westbrook does not want to play with James Harden. James Harden does not want Russell Westbrook. Russell Westbrook wants to play with the ball in his hands. He doesn't want to play off the ball as much. He looks at Oklahoma City's success. He needs the ball to be in his hands. That's his mentality."
ADVERTISEMENT
Article continues below this ad
The failure of Rockets with Harden and Westbrook
ADVERTISEMENT
Article continues below this ad
Westbrook and Harden joined forces in the start of the 2019-20 season. The trade was a win-win situation for both Oklahoma Thunder and the Houston Rockets. The Rockets got Westbrook while the Thunder got Chris Paul with multiple future picks.
Westbrook and Harden knew each other since a long time and the Rockets expected that they would fit right in. They wanted to play with each other. It did not work out. The Rockets could not use Westbrook properly and were too much dependent on perimeter shooting.
When Westbrook was in OKC Thunder, he had monstrous numbers all across the board. He even averaged a triple double for an entire season. This was due to the fact that Westbrook was the primary point guard and was always given the ball. He was the one who controlled the play and was responsible for the team's entire offense.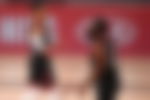 When Westbrook came to the Rockets, Harden already took his place. Harden is the point guard and the number one scoring option in the team. Westbrook now had to look for another role in the team.
ADVERTISEMENT
Article continues below this ad
The Rockets this season under Mike D' Antoni played small ball. This meant that perimeter scoring was of utmost importance. Russell Westbrook has had a career 3 point percentage of 30.5%, not what a small ball team would want. And this season that number plummeted to 25.8%.  Westbrook got frustrated without the ball, He played well, but without the ball in his hand he was ineffective.
The Houston Rockets thought sticking to the small ball would be a great option for them, but it was a mess. The Rockets barely made it past the Thunder. And then were beaten by the eventual champions' Lakers.
ADVERTISEMENT
Article continues below this ad
The Rockets now find themselves in a very precarious position where they surely will lose one star and might lose the other one too.