"Scared To Death": Ray Allen Reveals LeBron James And Co. In Miami Heat Were Afraid of Boston Celtics
Published 09/16/2020, 3:29 PM EDT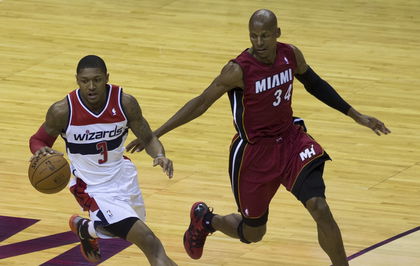 ---
---
The Miami Heat and LeBron James faced some hard battles against the Boston Celtics during the late 2000s. James's Cleveland Cavaliers came short in his final playoff run with the team before he moved to Miami. LeBron never lost a series to Boston in Miami, but had to shake off internal strife to beat the juggernaut team that had stopped him before.
ADVERTISEMENT
Article continues below this ad
While Miami did it without Ray Allen, Allen signing with the team changed their makeup in 2012-13. That permanently weakened Boston and made Miami almost unbeatable. That is when Allen realized that the young Miami team had a mental block against the 08 Champion Celtics. Allen spoke about this on 'The Posecast'
ADVERTISEMENT
Article continues below this ad
"The interesting part is, I learned how afraid Miami was of Boston. These guys were scared to death of us, just everything we run and we did on a daily basis."
Allen also spoke about what made the Heat a better team than Boston, "They're similar teams because you could see the cohesiveness and see how the best players communicate and make sure that they have ownership of the team and that there is a lot of camaraderie. The Miami team was deeper from top to bottom with vets."
The Miami Heat and overcoming the Boston Celtics
ADVERTISEMENT
Article continues below this ad
The Boston Celtics were ruling the Eastern Conference in the late 2000s. Despite surging teams like the Orlando Magic and the Cleveland Cavaliers, Boston made it to two NBA Finals in a three-year span. The second Finals came in 2010, when they beat a LeBron-less Miami Heat in the first round before also eliminating LeBron James and the Cleveland Cavaliers.
After LeBron joined Dwyane Wade in Miami, it was curtains for the budding rivalry. Miami beat Boston 4-1 in 2011 but were stretched to seven games in 2012. Allen would join the team after that, but they never re-matched Boston in the Playoffs again.
However, the current Eastern Conference Finals has seen a rivalry rekindled. While most of the fixtures from those old days are gone, the rivalry seems intense as ever. Two young teams, now led by Jimmy Butler and Jayson Tatum, are fighting to see who goes to the Finals. There, they might meet a team with two fixtures of this old rivalry in the Lakers, who have LeBron and Rajon Rondo.
ADVERTISEMENT
Article continues below this ad
Miami is up 1-0 in the series after a thrilling win in OT. It was capped off by a tremendous block by Bam Adebayo.