Scottie Pippen Reveals Michael Jordan Acknowledged His Mistake Over The Last Dance's Inaccuracy
Published 12/07/2020, 12:33 PM EST
---
---
The Netflix documentary series The Last Dance was one of the most popular series on the platform this year. The documentary was based on Michael Jordan and the 1998 Chicago Bulls, who completed their 2nd three-peat in a decade that season and disbanded later.
ADVERTISEMENT
Article continues below this ad
Although it enjoyed a lot of fame, some people have been critical of the series. One of them is 7-time All-Star and 6-time NBA champion Scottie Pippen. Pippen was the right-hand man for the Bulls' talisman, Michael Jordan.
ADVERTISEMENT
Article continues below this ad
In a recent interview with Andrew Anthony, he expressed his displeasure with the series. Pippen even quoted a conversation between him and Michael Jordan and said, "Yeah. I told him I wasn't too pleased with it. He accepted it. He said, 'hey, you're right'. That was pretty much it."
Pippen also expressed his concerns over the inaccuracy of the documentary series. One of them was that it is too centered around Michael Jordan and portrayed of some of his teammates in a bad light.
How important was Scottie Pippen to Michael Jordan & the Bulls
Scottie Pippen was always seen as the second best player in the Bulls. There is no doubt that Jordan was the best player on the team, but Pippen's contribution to the Bulls dynasty is often under-appreciated.
Pippen was much more than your average small forward. He was one of the most well-rounded players the NBA had ever seen. Not only was he a fantastic passer, but he was also a great defender and an able rebounder. He was not the biggest guy on the floor by any means, but was never one to shy away from adversity.
Offensively Pippen had a decent jump shot in his arsenal. He could even dunk and score graceful layups. He was the ultimate package that Jordan and the Bulls required.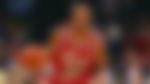 Despite playing second fiddle to a prime Michael Jordan, Pippen averaged 16.1 points, 6.2 rebounds and 5.4 assists for his entire career.
ADVERTISEMENT
Article continues below this ad
He was also a much-needed leader apart from Jordan. This was evident in the 1993-94 season. MJ had retired from the game for the first time and Pippen had to step in to lead the team.
He was the star player that season as they finished the season as the 2nd seed in the stacked Eastern Conference. Despite winning 3 games, Pippen and the Bulls could not defeat Patrick Ewing and the New York Knicks over the course of 7 games.
Pippen could have thrived on any other team. He could have been the star on any other team in the NBA. His role in the Bulls' success remains immeasurable and frightfully undervalued.
ADVERTISEMENT
Article continues below this ad