Shaquille O'Neal Reinstates That LeBron James and Anthony Davis Can't Match His Duo with Kobe Bryant
Published 12/16/2020, 10:26 PM EST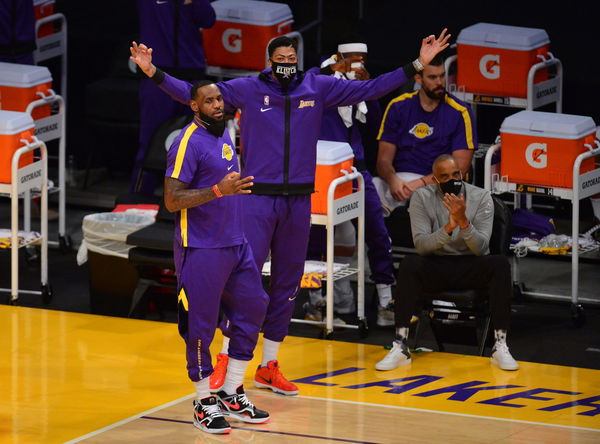 ---
---
When Kareem Abdul-Jabbar and Magic Johnson entered the NBA, everyone compared them to Wilt Chamberlain and Jerry West. When Shaquille O'Neal and Kobe Bryant entered the scene, the fans measured them from the scale of their predecessors. Similarly, when LeBron James and Anthony Davis shook hands, analysts pitted them against the success of Shaq-Kobe.
ADVERTISEMENT
Article continues below this ad
This has been the case for the Lakers for quite a while now. But how valid is it to compare star duos from across generations? At least Shaq himself does not find it sensible. He is of a belief that none of them can match the others.
ADVERTISEMENT
Article continues below this ad
When Shaquille O'Neal clarified that his duo with Kobe Bryant can never be challenged
In a recent interview, the 48-YO former NBA Champion very precisely claimed, "There will never be the next [Shaq and Kobe]. We don't need them to catch up to us. Kobe and myself were not trying to catch Magic [Johnson] and Kareem [Abdul-Jabbar]. … Kobe and I, [our] legacy will never be duplicated. Or imitated."
In a clear cut and straightforward manner, Shaq put a full stop to the conversation of Bron and AD matching his legacy with Kobe. The two former champions played eight NBA seasons together for the Lakers and won three NBA titles. They had their differences but were a force on the court.
Shaq later added, "We don't want to get into the situation where they can be the next us because there will never be a next us. Magic and Kareem can never be us. We could never be Magic and Kareem. And we can never be LeBron and AD."
Can LeBron James and Anthony Davis match Shaq and Kobe's success?
ADVERTISEMENT
Article continues below this ad
The Big Shamrock might be right about his immortal legacy with the Black Mamba. But Bron and AD can at least stretch and match those records set by them in the early 21st century. 
The two flag-bearers of the present-day Lakers still have enough years on their contract with Jeanie Buss's organization. King James has his fate attached to the Lakers until 2023, while Anthony Davis has signed a deal until 2025. So in an ideal world, they can still win three more championships, actually surpassing the three-peat from Kobe-Shaq.
ADVERTISEMENT
Article continues below this ad
Is this a real possibility or just a wild dream?