"Slap People on the B***s": Mavericks Legend Backs Steve Nash's New Career as a Head Coach at Nets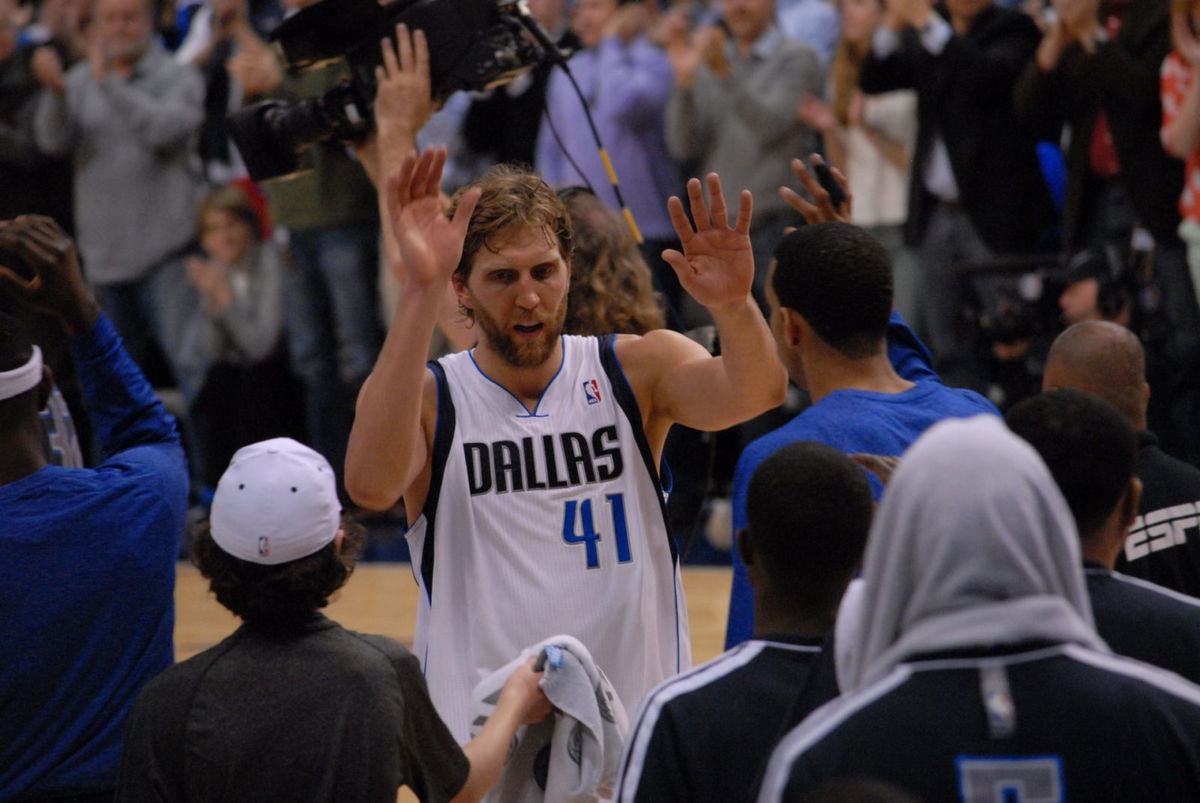 Dirk Nowitzki has literally spent half of his life in the NBA. He is 42 and his 21 years of service to the Dallas Mavericks make him an NBA pundit in all sense of the word. So when this man speaks, the NBA world listens.
The onetime champion did not follow the season keenly as a spectator, but his views on the developments in the league do matter. Steve Nash, Dirk's former teammate, recently took the position of the Brooklyn Nets head coach. And it is now that Dirk has finally made a statement on the same.
The Dallas Mavericks legend on Steve Nash's change of role
In an interview, the 14-time All-star was quoted claiming, "That's going to be a lot of fun (for Steve Nash) and it's a lot of challenges, but I think he's up for it. To me he was always a natural leader, with his positive attitude. He was always the first one to slap people on the b**** when things weren't working."
Both Dirk and Steve spent six seasons together, from 1998 to 2003, representing the Mavs. Steve grew exponentially with the Mavs as his regular-season average just doubled in just two years with the Mavs. Together, they appeared in four post-seasons. Their most memorable time together was the 2002-03 season, where they qualified for the conference finals after back-to-back Game 7 series victories.
The German Wunderkind later added, "He was one of the most positive teammates I've ever been around. I think he's going to be great. He'll learn more about the timeout situations, play-calling, and stuff like that, but he already has what it takes to be a natural leader."
Why didn't Dirk Nowitzki join Steve Nash's Nets staff? Not the right time, or place, he says https://t.co/wfQrm0Jvvg

— Brad Townsend (@townbrad) October 13, 2020
Is Dirk Nowitzki considering a comeback, too?
While the aforementioned words would have eased some pressure off Steve Nash's shoulders, Dirk himself is not ready for any such role. The reports suggest that the Dallas Mavericks owner Mark Cuban has offered The Germanator to pick any front-office role he wishes to take. But Dirk presently wishes to keep his distances from professional Basketball. He is enjoying a much-needed and well-deserved family time right now.
The legendary figure watched only a few playoff games from his home until he was invited by the league to be a virtual viewer of Game 1 between Lakers and Heat. Also, he had the invitation from Steve Nash to consider picking the role of one of his assistants, but nothing that could motivate Dirk.
Any which way, these men of honor are still contributing to the league, and that's just great.
Read: "Complete Mess": Mavericks Legend Lets Out the Secret Behind His Sudden Disappearance After 2011 NBA Finals
Get notified about breaking news and watch highlights on the go; join the Arena on NBA Hoops
Sourabh Singh
All work and no play makes Jack a dull boy. I intend to make popularise my quote when I say sports define me better than I define sports. See ya'all Champs!