Sportsperson of the Year LeBron James Reveals Which NBA Championship was Hardest to Win
Published 12/08/2020, 2:24 AM EST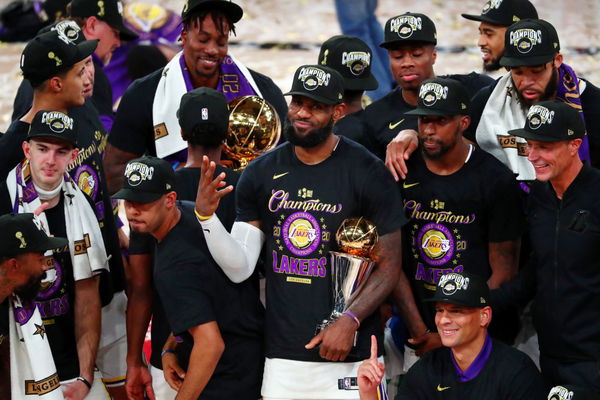 ---
---
LeBron James is one of the few people in the world who has been having an excellent 2020. The Los Angeles Lakers' superstar won his fourth NBA Championship and Finals MVP, and now he has another accolade to add to his resume; Sports Illustrated's Sportsperson of the Year.
ADVERTISEMENT
Article continues below this ad
This is James' third time winning the accolade. He won it twice before in 2012 and 2016. In addition to this honor, he also just led the Los Angeles Lakers to the NBA championship in just his second season with the franchise. Life has been good for LeBron in LA.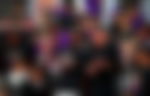 James sat down with Sports Illustrated to talk about his recent championship victories and what they meant to him. James said that all of his championships, including this year's win, mean a lot to him. He said:
ADVERTISEMENT
Article continues below this ad
"From my first championship in Miami, to my first championship in Cleveland, and my first championship in Los Angeles, they all have a lot of meaning to it. And I'm fortunate enough to end four of my seasons with the goal that I set out in the beginning, and that is to win a championship, and actually bring it home. So this is another one of those moments that I cherish for the rest of my life."
James added that the challenges he faced in the Orlando Bubble and having to be away from his family and comfort zone made the title victory even sweeter. He considers his 2020 championship win the most challenging act in his professional career.
LeBron James on the 2020 NBA Championship win
ADVERTISEMENT
Article continues below this ad
On his 2020 win, James said, "It was the most challenging thing I've ever done as a professional. Just from the simple fact of being away from your family, your comfort zone, the world in general. Just being in an environment that you have never been placed into before."
James noted that it wasn't just the challenges on the court and in the bubble, but everything going on outside the bubble in the world that made his victory that much sweeter. He called his 2020 championship the hardest one he had won in his 17-year long career. He said:
"There was times when it just challenged you, not just mentally, but physically and spiritually as well. And I had to do a lot of self-centering and things that to calm you, but also understand what was happening off the floor outside the bubble, with social injustice, police brutality, and voter suppression and things of that nature that I wanted to focus on too. So it was the most challenging and one of, if not the hardest championship I've had to win."
ADVERTISEMENT
Article continues below this ad
James will be hoping to repeat his 2020 success in the new NBA season. The Lakers kick off the new season by taking on the LA Clippers on the opening night of the new NBA season.