'Still Celebrating His Only Accomplishment': Damian Lillard Responds After Twitter Pokes Fun at His OKC Themed Sneakers
Published 01/25/2021, 5:54 PM EST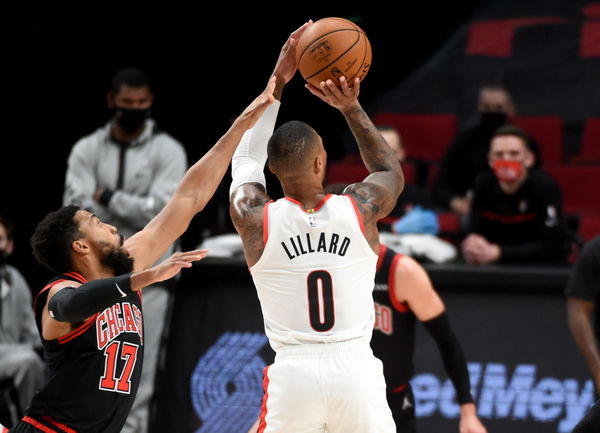 ---
---
In the 2018 playoffs, Damian Lillard hit one of the most iconic game winners when he hit a buzzer beater against Russell Westbrook and the OKC Thunder in the first round of the Western Conference playoffs.
ADVERTISEMENT
Article continues below this ad
To celebrate this iconic performance, Lillard and Adidas are going to release a new sneaker inspired by the series. What is more shocking is that even the colourway is orange and blue, representing the colour of OKC's logo.
ADVERTISEMENT
Article continues below this ad
The Thunder were the favorites to win the series against the Blazers led by Russell Westbrook and Paul George. With 1:40 remaining in the clock, the Thunder had a six point lead. After a minute, the scores were equal. With 32 seconds remaining, the Thunder could not score and the Blazers had the ball for the last possession.
With Paul George guarding him, Damian Lillard hit a 30 foot game winner to clinch the series. The 50-point performance was certainly special as Dame hit the Game 5 winner and waved off the Thunder.
The Blazers were one of the best teams in the NBA that season and even made it to the Conference finals. They fortunately were swept by the Warriors who eventually won their second title in a row.
Twitter Reacts to Lillard's New Sneaker
NBA twitter ripped Damian Lillard for launching the new Dame 7s.
still celebrating his only accomplishment 2 years later

— Thomas Boyd (@ThomasB19818385) January 25, 2021
Okc living rent free in Dame's head 😯

— SPIRE 😾🌵Former Texans Fan 🤘🏽 (6-9)🚀 (@StripclubHarden) January 25, 2021
Imagine commemorating a game from the 1st round of the playoffs against a 6-seed.

I hit the triple 20 after 4 pitchers of beer one night. I'm gonna call new balance and have them make me some special dad shoes for the occasion.

— Mark (@markaduck) January 25, 2021
That's his championship. Sad. Lol obsessed, it was 3 years ago

— Wienerdan🌭 (@wienerdan) January 25, 2021
it was a great series from him but cmon 😭😭

— Travis🧙🏻🪄 (@lfctrav1) January 25, 2021
At least he's self aware that he peaked

— Ryan Ingram (@_RyanIngram) January 25, 2021
At least he's self aware that he peaked

— Ryan Ingram (@_RyanIngram) January 25, 2021
He is gonna make a living out of that shot. Enjoy that, is the most he and his team will achieve. And yes, it hurt, what did you expect?

— Chencho (@CMFoficial) January 25, 2021
Damian Lillard gives clarification on his latest sneaker release
The latest sneaker has received some slack by fans all over the NBA. Lillard in a recent press conference clarified the idea behind the shoe and how the colourway was chosen.
He said, "It's a series of shoes Adidas has been working on where they're acknowledging guys with the brand's 50-point games. It wasn't just my shoe. It was other guys across the brand. I think you should be expecting shoes like the D'Rose's, the James Harden's, guys who score 50 points having a shoe based on that night. For mine, they chose the OKC game."
Lillard went on to say that he would have preferred some other game. He said, "I think I've had other games to choose from, but I'm ready to let that moment go, so that's why I would have liked it to be a different game. I don't want it to come off as I'm just living in the moment from two years ago. Honestly, it was a big moment, but it is what it is."
ADVERTISEMENT
Article continues below this ad
The sneakers for now have received some slack for being disrespectful towards the Thunder. It will be interesting to see how Adidas approaches to the situation when they release other players' sneakers.
ADVERTISEMENT
Article continues below this ad