"Stop Trying To Tell Me How To Do A Job": LA Clippers Player Bashes Media and Fans Over Hate Comments
Published 06/14/2020, 8:01 AM EDT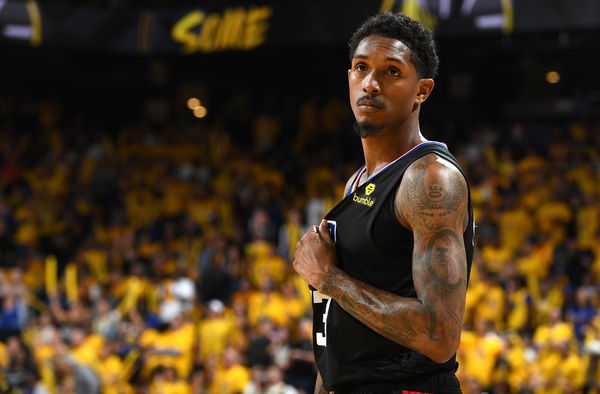 ---
---
As the NBA nears its return, there are many players who aren't happy with it. For instance, Kyrie Irving is leading the players' protest in opposing the league. They don't want the regular-season to return amid the unrest in the country. Los Angeles Clippers star Lou Williams feels the same when it comes to restarting the league. The 33-year-old is very much against playing the sport, especially during a time when almost the whole country is united in an attempt to end racial discrimination. 
ADVERTISEMENT
Article continues below this ad
As posted by Bleacher Report, Williams shared an emotional message on Instagram, expressing his disappointment over the league's return. He mentioned why he feels the time to protest is important more than ever. Here is what Williams wrote:
"We are fighting for a radical change. Sports has been a healing factor..In this climate, it is a distraction," Williams shared. Furthermore, the 3x NBA sixth-man of the year directly questioned the fans who are eager to see the NBA return to action. "You're dying to get back in the house and drink a beer and watch us hoop as opposed to being outside fighting for equality."
ADVERTISEMENT
Article continues below this ad
Unsurprisingly, the comments made by Lou Williams received heavy backlash from his fellow countrymen. Twitter users couldn't hold back from responding to the comments made by the Clippers guard.
Clippers star Lou Williams posts a reply on twitter clarifying his take on the return of NBA
Owing to the large number of hate comments that have come his way, Williams felt the urge to respond to the concerned fans on twitter. In a recent series of tweets, the Clippers star responded to a fan who questioned responded to his boycott statements. The fan asked Williams to use the games as an opportunity to voice his comments against the ongoing problems. This is what Williams had to say to that:
"I never said I wasn't gonna play. But everyday all we see on ESPN is NBA coming back. On CNN I see another black man killed by police last night. I don't expect you to understand cause u don't have a platform. So borrow mine. Say something that'll make mom proud. Go."
ADVERTISEMENT
Article continues below this ad

Besides this, Williams felt the need to post another tweet regarding his views on people telling him to quit the talks against the NBA's return. This time, he was unforgivingly brutal with his opinion. 
"Y'all stop trying to tell me how to do a job u never did lol. If we had a game today and u leave a protest to watch it. That's a distraction. Any questions? And bleacher report. Y'all make sure u  give my quotes context when I speak. Be cool. Keep fightin," he wrote.
ADVERTISEMENT
Article continues below this ad
Clearly, Williams is unhappy with the fact that people who have never played in the NBA are cheering for its return. Players like him want the season to be pushed back as more important matters need to be dealt with. Above all, his replies might have enlightened a few on how he obviously feels about the NBA's return.