"Story Got Tossed and Turned": Former Golden State Warriors Player Gets the Surprise of His Life
Published 08/27/2020, 7:56 AM EDT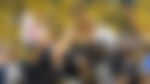 ---
---
Matt Barnes joined the NBA in 2003 and ended his stint in 2017. In this span of 14 years, he played for 10 different franchises. It took him a long time to settle first for the Golden State Warriors and later for Los Angeles Clippers before again moving back into GSW. 
ADVERTISEMENT
Article continues below this ad
Matt saw a fair share of troubles in his NBA career. Be it injuries, or attracting suspensions and fines, he has been through all of it. His fate, however, gifted him with the best present of his professional life when he won the NBA Championship in 2017. But something stopped him from receiving that esteemed ring.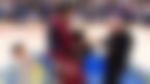 ADVERTISEMENT
Article continues below this ad
When the Golden State Warriors went out of the league to show their respect
Back in 2017, the GSW lifted their fifth NBA title ever. It was a big deal, and they boasted of one of the best NBA teams to have ever played the game. Their roster had Kevin Durant, Klay Thompson, Stephen Curry, Draymond Green, and Matt Barnes among others. They defeated LeBron James' Cleveland Cavaliers 4-1 in the NBA finals in a one-sided victory. 
But as they won the title, Matt Barnes did not accept the ring because he reportedly did not feel deserving of it. His contribution had been limited because an onset injury prevented him from giving enough time on the court. 
The GSW organization later kept a special ceremony to present the ring to Matt and his two kids. But he somehow ended up not taking the ring home. Now, after 3 years, the GSW again tried to present him with the ring and succeeded.
While surprising him with the ring, coach Steve Kerr said in a video conference, "We've been trying to give it to you for about three years. In all seriousness, this was well deserved. Played a big role on our team in 17, especially when KD went down. You're a great leader, you were fantastic to coach, one of the most competitive people I've ever been around. You brought Warriors fans a lot of thrills over the years.
"Enjoy the ring, you're an NBA Champion forever, don't ever forget that."
An elated Matt loved the gesture and respectfully replied, "It's an honor. The story got tossed and turned around. So what happened was, they had a special ceremony for me. Best part was my kids got rings too. This [Box] is so big that I didn't want to sit in the stands with it.
"So I put it in a room and then when I was ready to leave, the room was locked. It's just been [a] cat and mouse. Raymond Ridder held on to it for a long time."
Matt's performance why he was important
ADVERTISEMENT
Article continues below this ad
It's true that Matt played just 20 games in that regular season. He averaged a career-low 5.7 points, 4.6 rebounds, and 2.3 assists. Even in the post-season, he played just 12 games with a minuscule average of 0.8 points per game (5.1 minutes per game). Game 5 in the NBA finals allowed him just one minute to play. All this can make anyone feel lesser deserving when you have MVPs on your team.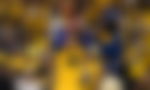 But we must remember that KD sustained a Grade 2 MCL sprain and tibial bone bruise on his left knee that same year. He missed 19 games in the regular season and that is when Matt's services came handy for the Warriors.
ADVERTISEMENT
Article continues below this ad
The 6'7" forward saw many ups and downs in his career, but he can at least be happy to win a ring in the last year of his playing career.