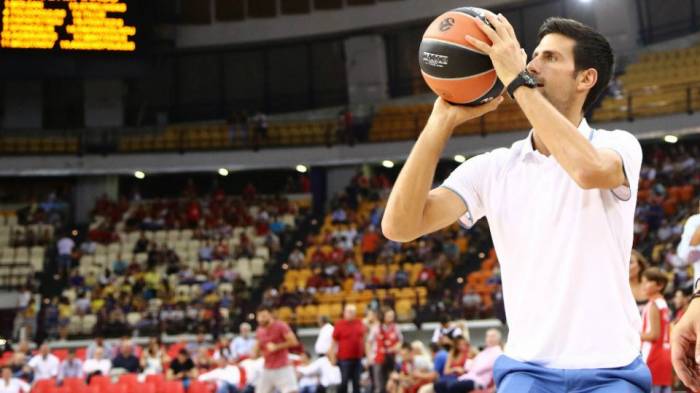 LeBron James had an invitation for a one-on-one but not from the NBA community. It was Tennis superstar Novak Djokovic and James was ready.
Djokovic had a few basketball skills to show to James. He posted a video on Twitter on Saturday of him playing ball. In the video, the Serbian tennis star had a few dribbles with the basketball before putting the ball into the basket. In the caption, Djokovic wrote asking James whether he was ready for a one-on-one.
James seemed impressed with Djokovic's followthrough for his shot. Djokovic did have a followthrough fit for the cameras.
"Ha! I'm going to say I think you are!! Beautiful follow-thru on that shot buddy!" is what James had to say to Djokovic after watching his shot.\
Ha! I'm going to say I think you are!! Beautiful follow-thru on that shot buddy! 💪🏾🙏🏾👑 https://t.co/fMUocbVMRL

— LeBron James (@KingJames) June 20, 2020
LeBron James and Novak Djokovic: Two global superstars
Both Djokovic and James are top players in their respective sport and are global superstars. Djokovic made his professional debut in the same year when James first played in the NBA. 17 years later, Djokovic is a 17-time Grand Slam winner and among the best two have played the sport. Alongside Rafael Nadal and Roger Federer, many consider Djokovic to be among the greatest players of the generation.
James had a similar impact on the NBA world since making his debut in 2003. Into his 17th season in the NBA, James is a 16-time All-Star and four-time winner of the Most Valuable Player (MVP) award. James on the NBA title thrice in his career and is currently looking to add to it. He started his career with his hometown franchise Cleveland Cavaliers. He had to wait till 2012 for his first NBA title that came while he was playing for Miami Heat. He won another title the next year. James also brought a Championship to his hometown club during his second stint with the team.
He is currently playing for Los Angeles Lakers where he has been the center of a strong side capable of winning the title. They were among the favorites to lift the title before the league's suspension.