"That is a Tremendous Accomplishment": Boston Celtics Youngster Talks About His Massive Dunk on LeBron James Earlier This Year
Published 07/06/2020, 10:47 AM EDT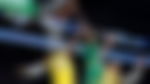 ---
---
Many players get posterized, and that is normal in the NBA. When in defense, there can be times when an offensive player finds that desired gap, coupled with a fierce timing. But how often do you hear someone dunking on the likes of James Harden, Kevin Durant, Kawhi Leonard, and LeBron James? These are big bulky guys who stand tall like a massive wall when patrolling in defense. To cross them, let alone dunk on them, is a Herculean task many would not dare undertake. 
ADVERTISEMENT
Article continues below this ad
But here we are, talking about that one preposterous time when LeBron was dominated by a prime force. Jaylen Brown is our man who made the impossible look easy when he jumped over The L-Train to win those two points. Yes, it definitely got the Boston Celtics only two points, but the effort was worth 20 points.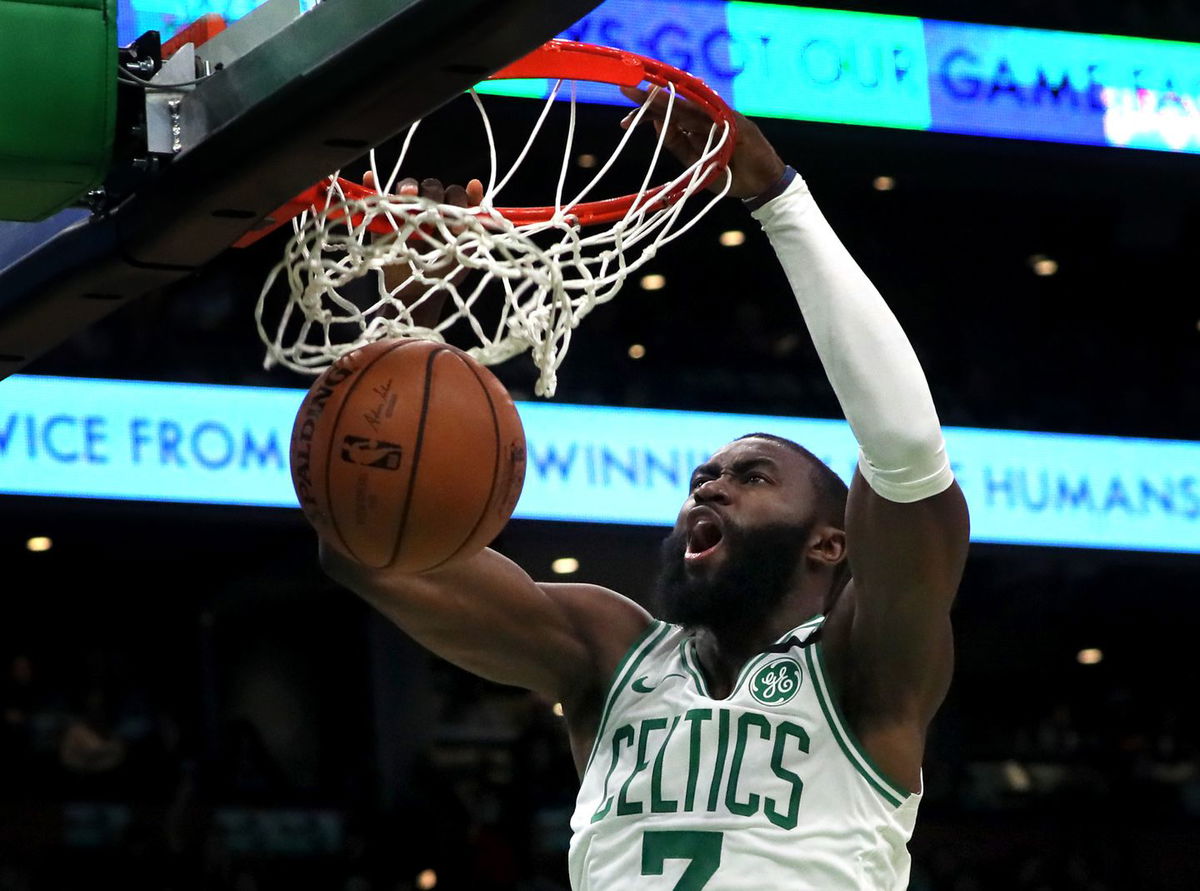 ADVERTISEMENT
Article continues below this ad
Jaylen Brown dunk on LeBron James, as it happened…
The 23-YO Boston Celtics shooting guard has an impressive average of 20.4 points per game this season. His prowess gets a double advantage when his teammate Jayson Tatum joins him as a partner in crime (just a metaphor, nothing serious). 
In an interview with Basketball analyst Rosalyn Gold-Onwude for ESPN, Jaylen said, "LeBron is one of the greatest players who ever played this game. You say LeBron, Jordan, or Kobe, I'm not gonna argue with you."
Rosalyn enquired whether Jaylen was aware that he was dunking on LeBron in that microsecond. The Celtics star responded modestly, saying, "In that moment, I just…It was a blur. Like, kind of a gentleman was bumping I had no idea. But it is crazy how many people like me to speak on that topic and um I would hope to get to the point in my career where somebody is validated off of just scoring two points like that. That is a tremendous accomplishment."
This showcases how much he wishes to improve hereon. He definitely would like folks to ask other men who would later in career dunk on Jaylen, about their feelings. Meanwhile, you can enjoy the video of that dunk.
What are other notable dunks on LeBron?
As mentioned earlier, Jayson Tatum put LeBron on the poster back in 2018. Although the Celtics lost that game to the Cavs, Jayson's moment of glory will remain alive forever. 
ADVERTISEMENT
Article continues below this ad
Next, Victor Oladipo did the humiliation to LeBron not once but twice. Interestingly, Victor made this possible playing for the Orlando Magic and then for the Indiana Pacers. He proved that the first time was not a mere fluke, as some fans believed.
Others on the list were Steven Adams, Amar'e Stoudemire, and Malcolm Brogdon. A special mention for Malcolm, because he dunked both LeBron and Kyrie Irving in one merciless game night. Seems as if James was posterized more often when he was with the Cavs. No data to back that gut feeling, though.
Also read: "I Go For Younger Teams": Former NBA Champion Disregards Lakers And Clippers 
ADVERTISEMENT
Article continues below this ad
Do you believe LeBron is better at defense today than he was earlier in his career?