The NBA serves more than 1 billion viewers worldwide. That's humongous and it speaks of the power that sports bring. The flag bearers of this sport are the players who people pay to watch. These giant men with bulky shoulders and horsey legs are the face of the association. The way they behave on and off-court influences every fan big time. Recently, Dwight Howard of the Los Angeles Lakers took out time from his busy schedule to have a quick chat with a lucky fan.
As you may have already guessed, the young fan was overwhelmed by this gesture and was at a loss of words in the beginning. But as their chat of over two minutes unfolded, Dwight spoke the letters of gold (not that video game, real priceless words).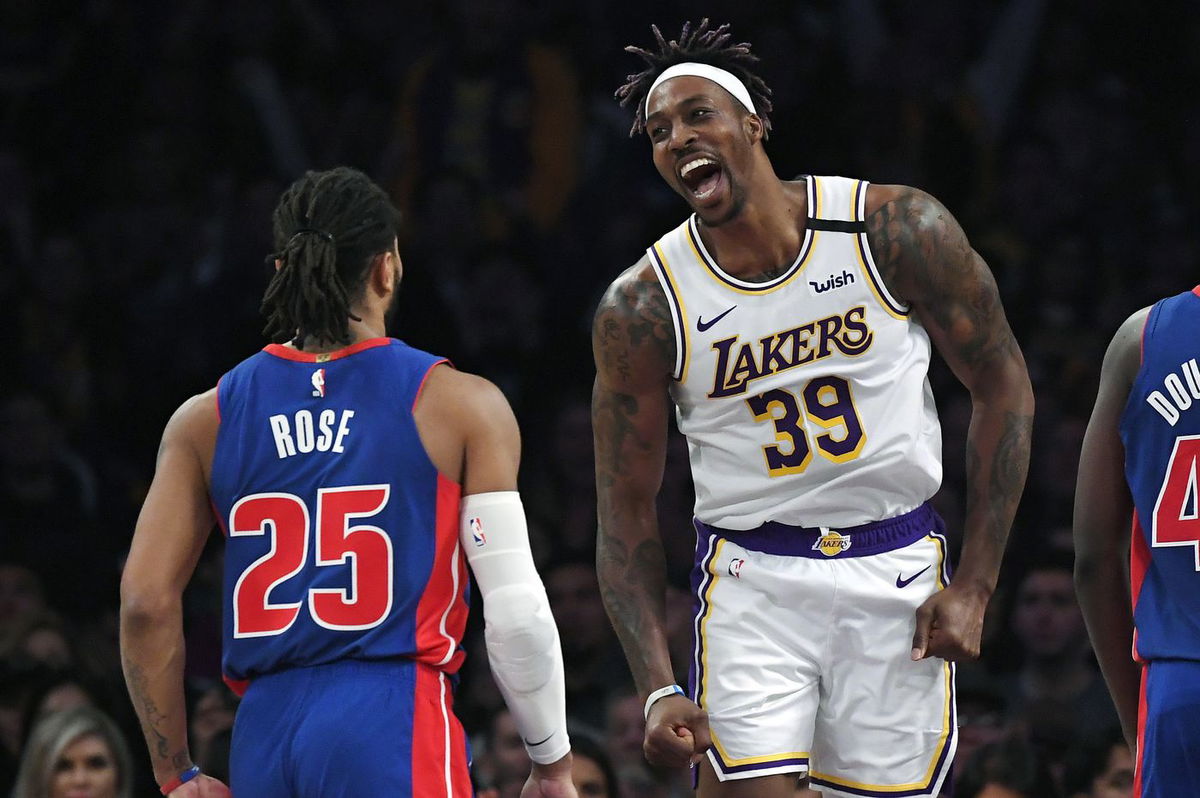 Dwight Howard asked the kid something about his Los Angeles Lakers comeback…
The 34-YO has an exceptionally high rebounding percentage and is very strong at his defense too. These two will definitely be his greatest chores as he steps on the court wearing that Golden jersey again. He is a back-up center player who would surely be called in the starting five whenever Lakers face a very tough rival. Dwight seemed pretty excited about his comeback in the squad when he asked the 14-year old, "It was exciting when I came back to the Lakers?"
The teenager fan replied to this by pointing towards the people who would talk behind his back and speak ill of him when he was not around.
Now to this, Dwight responded so nicely that it had the prowess to change anybody's life. "That's okay man. It's just life man, people doubt you, the main thing is you don't doubt yourself. You don't care about no body else, you've got to care about yourself. And no, nobody can judge you. Don't worry about it. People always gonna have something to say about how you are."
Before we move forward, there is a video in circulation where you can find Dwight paying a surprise visit to a hospital.
Dwight asks the kid to take up reading!
Ironically, Dwight himself could not complete his full-time college because he was the first draft pick for Orlando Magic in 2004 when he was just 19 years of age. But he totally understands and values the power of education. He asked the teenager whether or not he reads books. He heard denial and then gave this beautiful piece of advice…
"You gotta read books man, that's where the knowledge is."He added, "Video games, they ain't gonna help you with nothin' in life." Wow, such words of wisdom coming from a sports person add weight to those life-altering lines. Have a look at the conversation tweeted by beat writer Fred Katz…
This is so great. Dwight just made this kid's year https://t.co/Vx6PJZuISh

— Fred Katz (@FredKatz) July 12, 2020
He is a gem of a person and a legend of a player. The way he defined the year 2020 also explained how his mind works. Can't wait to watch this 6'10" phenom make those rebounds and convert them into points for the Lakers.
Worth reading- When Kobe Bryant Was Left Stunned And Speechless
Sourabh Singh
All work and no play makes Jack a dull boy. I intend to make popularise my quote when I say sports define me better than I define sports. See ya'all Champs!