"The Most Pistons Thing Possible": Detroit Pistons Fans Outraged After Team Sides With Michael Jordan For New Jersey
Published 07/23/2020, 10:02 AM EDT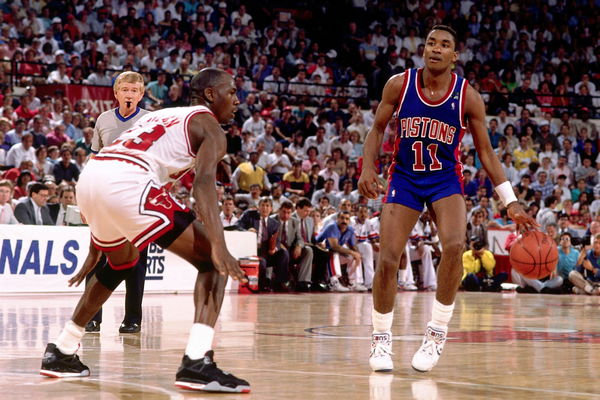 ---
---
Detroit Pistons and Chicago Bulls had one of the most historic playoff rivalries of all time. The teams met in 4 consecutive playoff series' from 1988 to 1991. And it got ugly. The 'Bad Boy' Pistons, led by Isiah Thomas, tortured a surging Michael Jordan in the playoffs. They played by the 'Jordan Rules' and tried to wear MJ down physically to ensure they win.
ADVERTISEMENT
Article continues below this ad
This tactic worked, as the Pistons beat the Bulls from 1988 to 1990. Isiah Thomas became the Bulls' ultimate leader. Jordan was stumped. Meanwhile, the Pistons lifted two championships.
However, Jordan came back with a vengeance and swept the Pistons in the 1990 Conference Finals. MJ knew he destroyed the Pistons because the Pistons walked off the court without shaking his hand. Jordan's star emerged because he had to crush the Pistons to start winning titles. Despite the three playoff wins, the last 1990 win was emphatic enough to break the franchise. He went on to freeze rival and Detroit legend Isiah Thomas from the historic 1992 Dream Team.
ADVERTISEMENT
Article continues below this ad
Now, Jordan has returned with an even bigger victory. The Pistons will rock the Jumpman logo on their Statement edition jerseys next year. However, Pistons fans are not happy about this and have blown Twitter up with their anger.
🤮🤮🤮🤮🤮🤮🤮🤮🤮🤮🤮🤮 never will I buy any Pistons gear with that logo on it. Does the Pistons brass know nothing about the Pistons?

— Jeffrey (@jeffdaddy4) July 21, 2020
This is the most Pistons thing possible 😂

— Dario🇦🇱 (@KorcarX2) July 22, 2020
That's b******* am I reading this right, NO DISRESPECT on Michael Jordan but what the f*** that got to do with the Pistons. This whole damn country going CRAZY🤯 just give people more DISAPPOINTMENT.

— John (@jws3512) July 21, 2020
Detroit Pistons and Michael Jordan
ADVERTISEMENT
Article continues below this ad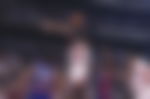 The Pistons that dominated MJ featured point guard Isiah Thomas, center Bill Laimbeer and forwards John Salley, Rick Mahorn, and Dennis Rodman. The team's tough physical play was extensively covered in the recent 'Last Dance' documentary. The team deliberately played to hurt Jordan in an unsportsmanlike manner.
Today's rules would render such play almost impossible, further emphasizing the hill Jordan had to climb.
ADVERTISEMENT
Article continues below this ad
Jordan's 1990 series win saw him put up monster number in their 4 games. He led the Bulls in scoring, assists, and steals while coming second in rebounds. MJ scored 32.2 points per game, almost double Scottie Pippen's 16.6 points. He averaged 6.3 assists and even managed 2.1 steals a game. It was an almost single-handed beating that Jordan served the Pistons.
The fact that these teams never re-matched in the playoffs again has left Pistons fans with a bad taste in their mouth. Jordan had the last laugh on the court and is now featured on their jerseys.