"The New York Knicks Are The Weakest Link In The NBA": Former NBA Player Slams Team for Lack of Public Statement
Published 06/03/2020, 9:47 AM EDT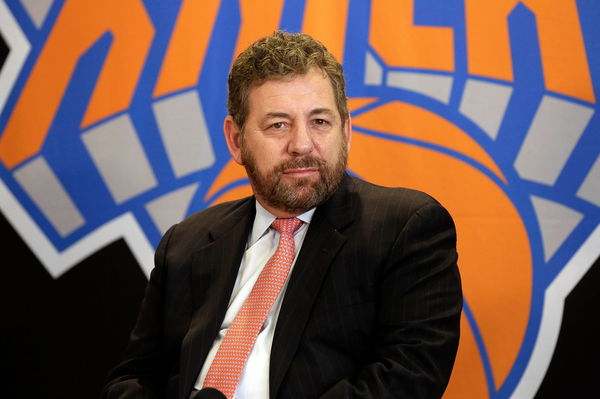 ---
---
Kendrick Perkins is of the few people who gives out strong opinions without holding back. Being an experienced NBA player, Perkins has now become an analyst after his retirement from professional basketball. People who regularly update themselves with the ongoings in the NBA world must know about Perkins' outspoken personality. His latest target is the New York Knicks and their owner, James Dolan.
ADVERTISEMENT
Article continues below this ad
Following the alleged homicide of George Floyd, people have been marching on the streets demanding justice. Citizens across the United States have erupted with protests and want to put an end to police brutality and end racial discrimination. 
Perkins has also contributed his support to the protests by actively responding to the happenings. Furthermore, he listed how athletes can play a massive role in bringing a significant change. For a man who is actively voicing his concern, it irks him to see the New York Knicks organization remain silent on the issue. 
ADVERTISEMENT
Article continues below this ad
Knicks owner James Dolan even released a statement explaining why his organization has chosen to refrain from sharing their views. Perkins, upon learning about it, used ESPN's The Jump as a platform to vent his anger against Dolan and the Knicks. 
Perkins feels the New York Knicks are the weakest link in the NBA
35-year-old Perkins lashed out at James Dolan for releasing such a defensive statement against the George Floyd protests. The former NBA champion feels his team doesn't even belong in the league. Speaking on The Jump, Perkins held no works back when he addressed the Knicks owner in his fashion. 
ADVERTISEMENT
Article continues below this ad
"Nothing surprise me no more when it comes to James 'Cupcake' Dolan, and if you want to be nice about it and call him 'James L. Dolan,' make sure the 'L' stands for lost because he's lost," Perkins said, as per ClutchPoints. "Now he deals the most valuable franchise in the NBA, and had a choice to speak out on civil rights and they dropped the ball again."
Dolan's actions came as a surprise to Perkins. He was visibly livid with the 65-year-old for refusing to speak up on the issue that is shaking the country. "It's disappointing because the New York Knicks are the weakest link in the NBA," claimed Perkins. "They don't represent what the NBA is all about. The NBA is not all about basketball. The NBA represents a brotherhood. And guess what, James Dolan and the New York Knicks lack in both of those categories."
Watch This Story
ADVERTISEMENT
Article continues below this ad
These strong words from Perkins on the New York Knicks and their owner are sure to reach the masses. Kendrick Perkins' extreme disappointment comes based on the fact that when the whole country is fighting, the Knicks and the San Antonio Spurs are the only two NBA teams to have remained silent on the issue.