The Worst of Bad Boys Piston? Revisiting their Horrific Brawl With the Philadelphia 76ers
Published 04/28/2020, 7:55 PM EDT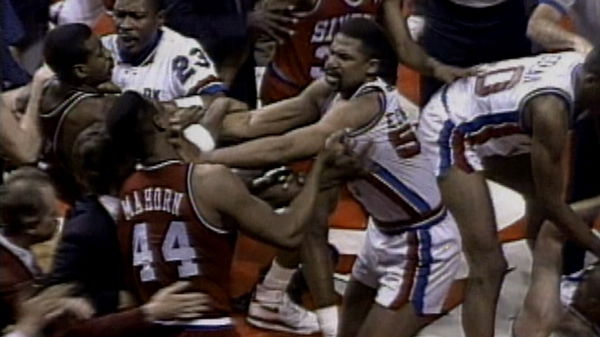 ---
---
As you spend time wondering what to do in the days of quarantine, we felt the need to dig up the brawl which involved the Bad Boys Pistons and the Philadelphia 76ers. The incident is one of the ugliest brawls recorded in NBA history. 
ADVERTISEMENT
Article continues below this ad
The 76ers visited The Palace, hungry for a win, that would crown them champions of the Atlantic Division. They wanted it now more than ever, as it would be their first division title since 1983. It was also the last year they had won the NBA title. 
The game squared off intensely and went along in a similar fashion. Charles Barkley was outstanding for the 76ers. His scoring talent steered Philly forward. The Bad Boys Pistons dreaded being the defending champions and lost momentum halfway through the game. It was going well until Dennis Rodman fouled former 'Bad Boy' Rick Mahorn with 14.8 seconds left on the clock.
ADVERTISEMENT
Article continues below this ad
What caused the brawl between the Bad Boys Pistons and the 76ers?
When Rodman fouled Mahorn, the latter made a taunting response against his former teammate. Both actions seemed minor and nothing was about to blow up. But, it all started when Bill Laimbeer came into the scene and shoved the ball on Mahorn's face. Notorious, isn't it?
ADVERTISEMENT
Article continues below this ad
This caught the eye of Charles Barkley and he was having none of it. He pushed Laimbeer aside and punched him twice and caught him on his left eye. He left him with a black eye at the end of the night. Laimbeer retaliated with an uppercut to Barkley, but by then, everyone from the teams had come off to get involved. 
The players were going at each other with others joining in as well. Both benches were empty and the referees were giving it their all to put an end to the ugly brawl. The fight lasted for 10 minutes and is one of the worst moments in the NBA. 
ADVERTISEMENT
Article continues below this ad
76ers eventually won the match 107-97 and clinched the Atlantic Division. Charles Barkley top-scored with 36 points. He was the man who started the fight as well. But, one could argue that he certainly did the right thing by standing up for his teammate.
As a result, the teams were fined $60,000 apiece, while Barkley and Laimbeer were fined $20,000 individually. The total value stood at $162,500, including the fines of other players who involved themselves in the fight.