"There is No Way There is a Team Who Beat Us 4 Times"- Lakers' Rajon Rondo on Playing with LeBron James
Published 10/13/2020, 6:30 PM EDT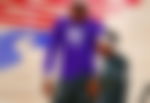 ---
---
LeBron James and Rajon Rondo had played on opposing sides for the longest time. Between 2008 to 2012, Rondo and James faced off in the Playoffs 4 times out of a possible 5. Both players have won and lost to each other's teams.
ADVERTISEMENT
Article continues below this ad
The duo became renowned for their playmaking abilities while on the Celtics (Rondo), Cavaliers, and Heat (James) respectively. However, when the opportunity to play together in the Los Angeles Lakers presented itself, Rondo knew he had to take it.
Rondo has been hailed as one of the NBA's greatest playmakers. A traditional point-guard, the 2-time NBA Champion averaged 8+ assists per game for 10 of his last 13 seasons. He ranks 6th on the all-time Playoffs assists chart.
ADVERTISEMENT
Article continues below this ad
Rondo's career hit a rough patch after leaving the Boston Celtics in 2014; a poor stint in Dallas saw him fall out with Head Coach Rick Carlisle. His stints with the Bulls and New Orleans helped him recover his mojo before the Lakers came calling.
At Los Angeles, Rondo was mostly expected to help mentor the younger talents. His playing style and understanding of the game saw him return to some of his best playmaking numbers.
But it was the addition of another high Basketball IQ player alongside LeBron James that made him so valuable. Rondo showed off this Basketball IQ a number of times during the 2019-2020 NBA season; however, Game 2 of the Western Conference Finals outclassed them all.
Rondo inbounded the ball for Anthony Davis, who sunk it for the winner when most others would have looked for James.
LeBron James + Rajon Rondo = Unbelievable basketball IQ
Rajon Rondo spoke to NBA TV after the Lakers beat the Heat to claim their 17th NBA Championship. When asked about playing with LeBron James, Rondo spoke opened up about the time when James lost the 2017 NBA Finals to the Warriors.
"I told myself that if I was able to get with a guy like LeBron, there was no way that a team was going to be able to beat us 4 times before we beat them 4 times."
ADVERTISEMENT
Article continues below this ad
Rondo and James have meshed well together and have been a great influence on the team. Insiders and coaches have expressed how the duo are usually the most vocal and enthusiastic during film sessions, helping the team understand what went right, wrong, and where they can improve.
ADVERTISEMENT
Article continues below this ad
How instrumental was Rajon Rondo during the Lakers' Championship run? Does Rondo have the makings of a future NBA Coach?