"There's Other Teams Out There": Rockets' Austin Rivers Seeking to Become Free Agent
Published 11/10/2020, 10:30 AM EST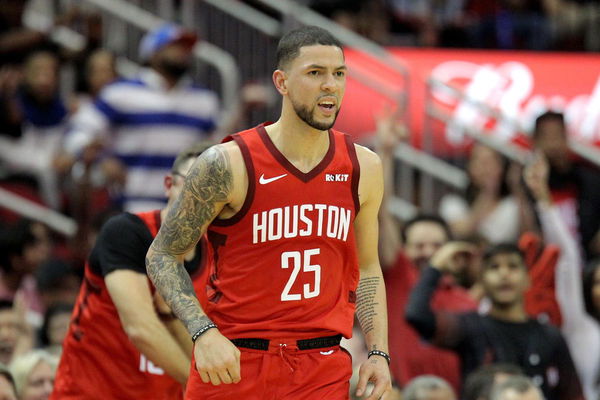 ---
---
Austin Rivers will contemplate his future in the coming off-season. After two seasons with the Houston Rockets, he will reject his player option and enter free-agency.
ADVERTISEMENT
Article continues below this ad
Rivers entered the league in 2012. He went to the New Orleans Hornets (now Pelicans) as the 10th pick in the 2012 NBA Draft. He was one of two top-10 picks for the Hornets, along with Anthony Davis, who was first overall.
With the Hornets, Rivers averaged close to 6.9 points per game. He was with the Pelicans for two seasons. Rivers went to Boston and the Clippers after two consecutive trades. With the Clippers, Rivers made history as the first player to play for his father, Doc Rivers, who was head coach.
ADVERTISEMENT
Article continues below this ad

Rivers had his best seasons with the Clippers, where he averaged close to 10 points per game. He became a regular player for the Clippers until 2018.
Eventually, Rivers was traded to the Wizards and then and the Suns in consecutive trades. He was waived by the Suns and eventually signed with the Houston Rockets in 2018. Since then, he has been a regular rotation player for the Rockets. Rivers is a good option off the bench, providing respite for players like Chris Paul (before he left) and then Russell Westbrook, who are the primary point guards of the team.
Austin Rivers on entering free agency
ADVERTISEMENT
Article continues below this ad
Rivers is coming off of his fifth consecutive playoff run this season. He played 12 games with the Rockets, at 17 minutes per game. Rivers averaged close to 5 points and 1 assist a game. The Rockets had a disappointing playoff run, once again failing to make an NBA Finals.
Rivers appears to have found a home in Houston. But he still wants to see his value and explore his options this coming offseason. For a role player like Rivers, he may be able to find a deal that gives him good minutes and pays him well to fulfill his obligations.
Watch This Story
Rivers spoke on the 'Real Ones' podcast. On the subject of free agency, Rivers said that he just wants to see what is out there, but doesn't rule out returning to Houston. He said:
ADVERTISEMENT
Article continues below this ad
"That's something I'm going through right now with my agent. I definitely want to… probably be out there on the market, and just see what else is out there. But I love Houston. Houston's still one of my main options. That's a team I loved playing for. But there's other teams out there that you want to look at. You owe it to yourself to at least see the best situation."
Rivers' landing spot at the end of the season will be an interesting subject of discussion. Rivers could return to Houston, but could also make a shock exit to a team that offers him a better deal.