"There's Some Resentment": Former and Current NBA Players Wage a War Against the Nuggets' Graphics that Insulted Melo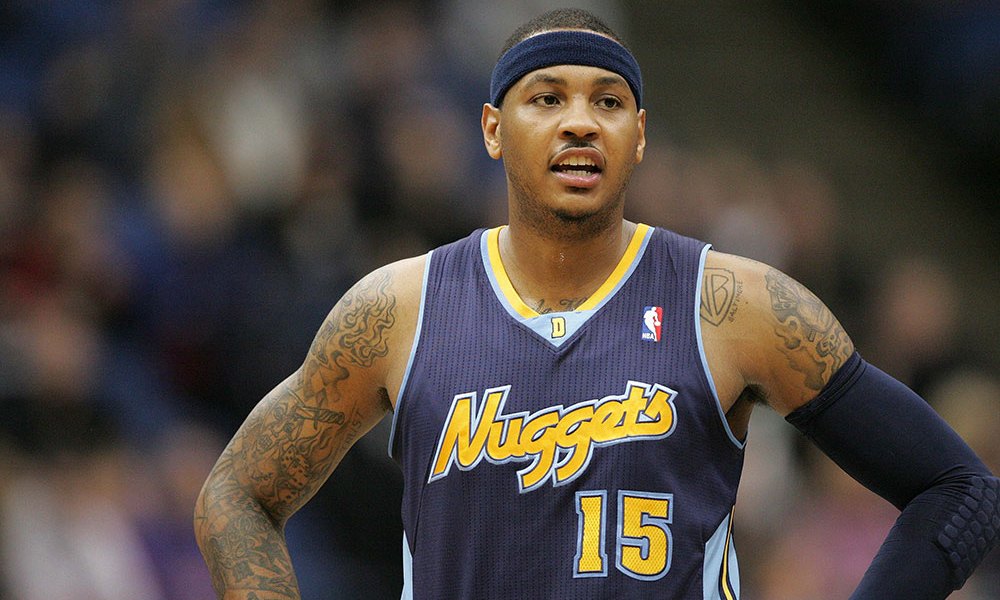 Six is greater than five. This is a basic mathematical fact that the Denver Nuggets learned really late. They recently posted a "Who is your favorite Nugget of all time?" where they clearly missed or strategically left out Carmelo Anthony. 
The Twitterati took no time in noticing this majorly accepted 'error' and waged a war against the social media handle. But it's not just the fans who found it weird. Even the greatest NBA minds thought Melo had given the Nuggets too much to not consider worth counting.
Portland Trail Blazers took the opportunity to roast the Denver Nuggets
Just as the Nuggets' graphic missed out on adding Melo, the Blazers posted their response by giving him a space with other greats.
Nuggets left Carmelo off the all-time graphic… the Blazers responded 😅 pic.twitter.com/Idi7St0DNW

— Bleacher Report (@BleacherReport) October 16, 2020
As the conversation picked the heat, former NBA player-turned-analyst shared his strong views on the same. In an interview, Kendrick Perkins was quoted as saying, "It's inexcusable and whoever's running that account is wrong for that. Melo gave some wonderful years to the Denver Nuggets franchise. They got to show a little bit more respect than what they do when it comes down to Carmelo Anthony."
He received complete support from journalist Zack Lowe, who had some different insights on the same. He added, "He was the leading scorer on that team when they made the conference finals before this year. I guess there's some resentment in the organization about him demanding a trade and basically picking his destination."
Even Ja Morant (Grizzlies) and Jamal Crawford (Nets) took a dig at the Nuggets. They shared tweets from their handle while a flurry of fans followed the same.
No Melo? Y'all trolling huh. https://t.co/rKeISxTrAv

— 🏁 Jamal Crawford (@JCrossover) October 17, 2020
— Ja Morant (@JaMorant) October 17, 2020
Nuggets fans: "yeah Melo isn't our favorite Nugget of all time."

The rest of @NBA twitter collectively: pic.twitter.com/ZmovwTKrYH

— MDZ Lloyd (@MichaelScarn770) October 17, 2020
My favorite is braided Melo! I don't see him on here 🤔 https://t.co/hUapYedGan

— Orlando Johnson (@OrlandoVJohnson) October 17, 2020
Who all were included in this list, and why was leaving Melo aside such an issue?
The Nuggets included Fat Lever, Dikembe Mutombo, Alex English, Nikola Jokic, and Chauncey Billups. In the response, the Blazers had Carmelo Anthony, Damian Lillard, Brandon Roy, Clyde Drexler, and Bill Walton.
Now, one reason behind Melo's absence from that could be the fact that the Nuggets designed it as per starting positions. Still, the success of Carmelo Anthony with and for the franchise must not be ignored. 
Melo played for seven complete seasons and a partial season with the Nuggets before moving out. In his successful tenure, they reached one conf final while making it into the playoffs every season. Melo's career-high average of 28.9 points per game came in 2006-07 and he literally did his best to set a winning momentum for the Nuggets.
Melo deserves his respect. 😤😤 pic.twitter.com/Ua70hcjesR

— Hoop Central (@TheHoopCentral) October 17, 2020
Let's see if the Nuggets somehow correct their wrong in the coming days.
Sourabh Singh
All work and no play makes Jack a dull boy. I intend to make popularise my quote when I say sports define me better than I define sports. See ya'all Champs!