"There's Something Going on Here": NBA Analysts Raises Questions on LA Clippers Ahead of Game 7 Against Denver Nuggets
Published 09/15/2020, 4:30 PM EDT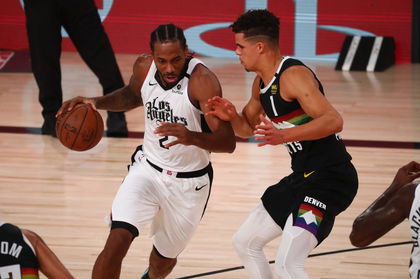 ---
---
The Los Angeles Clippers have one of the most talented teams in the league. They are expected to win it all this season, but in the Playoffs, they are playing like a shell of themselves. Kawhi Leonard led Clippers are on the verge of blowing a 3-1 lead against the Nuggets.
ADVERTISEMENT
Article continues below this ad
Right now, the series is tied at three games apiece courtesy of insane performances by Nikola Jokic. But what went wrong for the Clippers? They have a solid, well-rounded team and are still struggling to find their groove.
If the Nuggets take Game 7, then it would taint the Clippers' playoff record even further. In 50 years as a basketball team, this is the closest the Clippers have ever been to making the WCF. ESPN's Brian Windhorst made some remarks on the present condition of the Clippers.
ADVERTISEMENT
Article continues below this ad
"There's something going on here and just saying that it's the Clippers losing focus or them not being able to hold on to a lead, it's more than that. The Denver Nuggets are outplaying them, the Denver Nuggets bench has been better, their second half execution has been better, their second half energy has been better, their second half coaching has been better.
"Montrezl Harrell has not been the same player since he came back from being away. Lou Williams has not been the same player, since he came out of the NBA Quarantine… As Doc Rivers said today, they [Clippers] put themselves here, nobody else, and it's up to the Clippers to get themselves out of it."
Clippers need to regroup quickly, or it's the end of the road for them. Game 7 is the last opportunity to salvage something from this playoff run. Otherwise, it will be the same old story for the franchise.
Can the Los Angeles Clippers win Game 7?
Looking back on recent performances by the Clippers, it's been nothing but disappointment for the fans. Despite entering the second half with a commanding lead, they could not finish multiple games.
ADVERTISEMENT
Article continues below this ad
Moreover, the glorified second unit of the Clippers continues to struggle. On the other hand, the Denver Nuggets are playing just phenomenal in the series. Nikola Jokic has risen as the leader for the squad while Michael Porter Jr. is leading the bench for the team.
Taking the current situation into consideration, the Nuggets might upset the Clippers and advance to the WCF. However, Kawhi Leonard has championship experience and there is no better time to carry the team on his back.
ADVERTISEMENT
Article continues below this ad
Who will be the one to clinch the Western Conference Finals berth? We will have our answer on Tuesday night.