"They Needed Some Drama": Kevin Durant Blasts Media For Overblowing His Spat with Warriors' Draymond Green
Published 09/14/2020, 12:44 PM EDT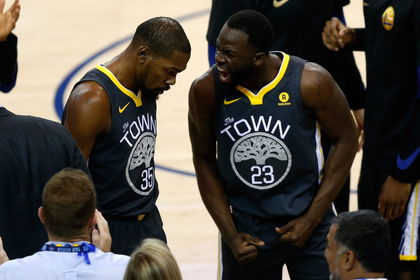 ---
---
Kevin Durant made his move away from the Golden State Warriors a long time ago. KD chose to play for the Brooklyn Nets after the Warriors lost the 2019 NBA Finals in six games. Even though it's been more than a year, everyone seems to be interested in learning more about the beef between Durant and Draymond Green. What does KD think about it? 
ADVERTISEMENT
Article continues below this ad
When Kevin Durant joined the Warriors in 2016, his move raised a few eyebrows. Nonetheless, he achieved what he came for and left the team when he felt like he should. KD came in like thunder and left like lightning. But his three years at Golden State was nothing short of controversial. 
Durant was often subjected to criticism by Golden State fans, which startled him. KD is an active social media user who likes to respond to hate messages directed towards him. Thus, one can say he had a hectic time responding to fans from the Bay Area. But, what was the gateway point that made Warriors fans develop a sense of dislike towards KD?
ADVERTISEMENT
Article continues below this ad
Well, remember his spat with Draymond Green? Durant thinks that sparked a shining light for the media to jump in on the issue and hold on to their backs for more. In a recent appearance on 'The Old Man and the Three' podcast, Durant explained to JJ Redick how he thinks his 2018 spat with Green paved the way for the media to expose the flaws in the team. 
"With so many people just wanting to see — it felt like we were so perfect — they want to see something. They needed some drama around our team. That was their entry point," Durant said.  
Did the Golden State Warriors play better after the infamous spat? 
One might think that the heated argument between Durant and Draymond Green might have created a rift in the team. But, two core players having a verbal argument actually helped the team perform better, as per KD. The Nets star has opened up about this incident before, but he's never really revealed the aftermath of it and how it helped the team recoup their camaraderie.  
ADVERTISEMENT
Article continues below this ad
"Me and Draymond, we got better after that actually," KD mentioned (via NBC Sports). "I felt like I was more locked into the team after that. I felt like he understood me more because we sat down and talked about that whole situation."
To be accurate, their spat occurred in Golden State's OT loss to the LA Clippers on Nov 12, 2018. Following that game, the Warriors registered a comfortable victory against the Hawks, but their momentum didn't last. 
ADVERTISEMENT
Article continues below this ad
The Warriors then went on a 0-4 run in the league, which reignited talks about the harmony in the team. Golden State came into the season as reigning champs, but failed to defend their crown and succumbed to defeat against the Toronto Raptors in the NBA finals.