"They Were Some F–king Losers": Draymond Green Details How He Helped Warriors Rise From Dirt
Published 10/17/2020, 12:34 AM EDT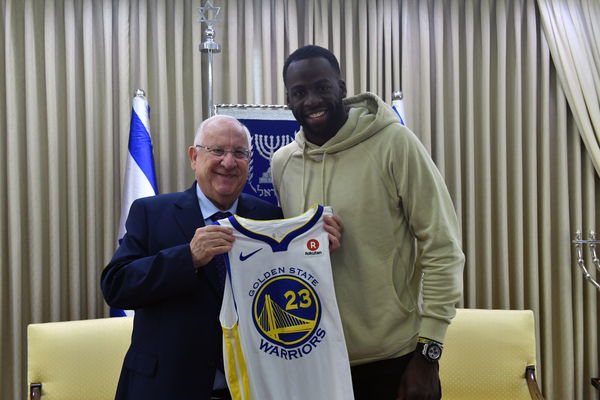 The Golden State Warriors literally rose out of the dirt to revolutionize the league. For five straight years from 2008 to 2012, the organization remained seated at the bottom of the table. Nothing was working for them until things changed quickly since the 2012-13 season.
The Warriors drafted Draymond Green in the 2012 off-season. He was the overall 35th pick and the third pick for the franchise that year. Clearly, his worth was underestimated, and the 6'6" took not much time to prove this. Draymond recently joined a podcast where he revealed what led to his dramatic growth. 
ADVERTISEMENT
Article continues below this ad
The renaissance of Warriors and Draymond's contribution to it
Just as Draymond came in, it was expected that he will blend in with the franchise's way of working. Instead, Draymond proved to be an outlier, and the then coach Mark Jackson proved instrumental in it. 
Draymond quoted Mark's words to him in a podcast, "I want you to come here as the same Draymond I've been watching on TV for years. I want you to be an animal, be a dog, and be a leader. I don't care who is in front of you, I don't care who has more money than you, who has more status in the league than you — I want you to come in and be the same leader that you've been your whole life."
DrayMagic had his mindset prepared, and he knew how he was going to proceed even before joining the team. He remembered, "I wanted to come in and try to change the mentality of this organization that had been getting their f–king heads cracked for years on end." The star forward added, "So when I stepped off the plane, I was coming in like, 'F–k ya'll. I'm here to get a spot. I'm here to help this team win,' because they were some f–king losers."
And he did it. The boy from Michigan State went from being a rotation player to get into the starting five and eventually become one of the three best players on the team. 
Draymond Green on All the Smoke: "I think I changed the game of basketball with the help of Steph Curry. I think Steph Curry changed the game of basketball with the help of me. I think it was a match made in heaven. And then Klay Thompson … us three changed the game forever." pic.twitter.com/viHMVTTe42

— Drew Shiller (@DrewShiller) April 23, 2020
ADVERTISEMENT
Article continues below this ad
How did he work his way up?
The three-time NBA Champion and the three-time All-star utilized every opportunity that came his way. He went from timing 22 minutes per game in 2013-14 as compared to just over 13 minutes in his rookie year. When Andrew Bogut was out for the entire first round of the playoffs 2014, Draymond recorded 11.9 points, 8.3 rebounds, 2.9 assists, 1.7 steals, and 1.7 blocks.
ADVERTISEMENT
Article continues below this ad
Even as David Lee strained his hamstring in 2014-15 pre-season, coach Steve Kerr provided Green with an opportunity to step up. Ever since there was no turning back as he became Defensive Player of the Year 2017, and improved his figures to 8 ppg, 6.2 rpg, & 6.2 apg.
He makes for an important piece in the GSW trio consisting of him, Stephen Curry, and Klay Thompson. They're again coming back this season to register a potential revamp.