The Los Angeles Lakers took a big blow on Thursday, August 6. They paid a heavy price by benching Lebron James and Alex Caruso because of their injuries. They lost to the Houston Rockets with a score of 113-97. However, the Rockets' star play, Russell Westbrook was also not playing but they were able to make up for it. Lakers' entire reliance on Anthony Davis and Kyle Kuzma did not pan out as one might've expected.
The Lakers' offense seems to be a little off and this is the third time that they have lost a match and held below 100 points. James Harden scored a whopping 39 points for the Rockets along with 21 three-pointers.
Kyle Kuzma on what went wrong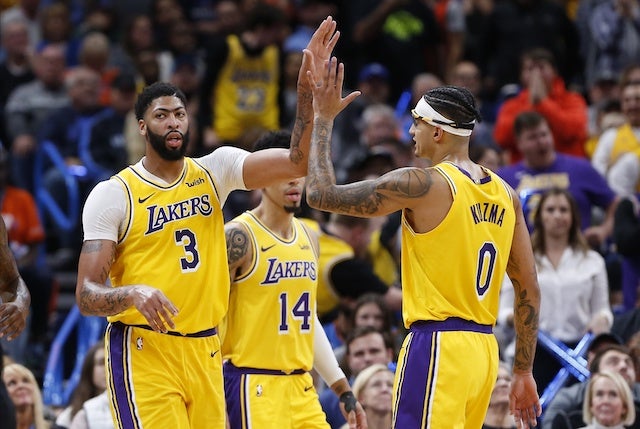 Anthony Davis and Kyle Kuzma generated a disappointing 38 points altogether. In a press conference after the game, Kyle Kuzma talks about his loss against the Rockets and what he believes went wrong. He said," One thing that Houston wants to do, they want you just to bait you and just shooting three's and settling and that's what we kind of just, that's how we got back into the game a little bit in the second quarter. Just attacking the rim because they're very small, no run-projection and from a defensive standpoint, it's not their focus." 
He continues to talk about what the Rockets tempt the opponent to do but emphasizes on them being 'small' constantly referencing to their heights. " They want you to shoot turnarounds, they want you to shoot three's because they're small and you kind of just got to pound them inside, try to get them in the fire truck a little bit so it worked for us but not enough," says Kuzma
He admits that this game was a valuable lesson for the team and comments on Lebron and Caruso being out. He said," I think that for us we had a lot of guys out and for us, we have to have a next man up mentality no matter what and also play with that certain type of edge and energy. Making the right plays and play more mistake-free basketball especially when you have valuable playmakers out." He emphasizes that the team needs to work on its defense and offense to make for a better game.
Lakers still No.1 seed
The Lakers are still leading in the Western Conference and have the No. 1 seed clinched. However, they do need to up their game as soon as possible because the games will start to count again. The Lakers are playing the Indiana Pacers next on Sunday, August 9.
Catch the interview below:
From 2:45 to 3:27
SOURCE: Youtube