THROWBACK: How Chicago Bulls Stopped Michael Jordan from Joining the Knicks in His Free Agency
Published 11/21/2020, 10:52 PM EST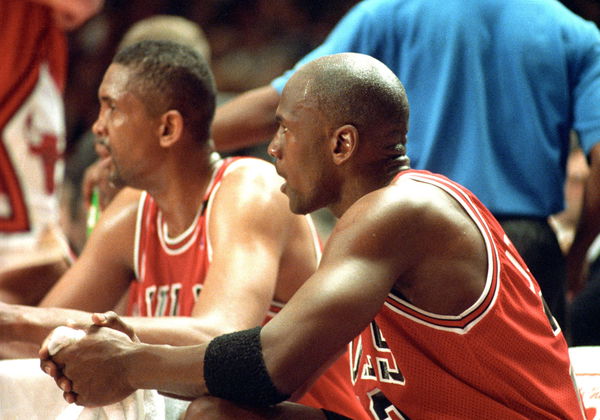 ---
---
Michael Jordan was to the Chicago Bulls what Tom Brady was to the New England Patriots. Chicago's on-court talisman spent 13 seasons with them out of his total 15 in the league.
ADVERTISEMENT
Article continues below this ad
An optimist can argue that he could've played 19 seasons for the Bulls alone if there were no reasons for him to seek those early retirements.
However, the NBA fans from the mid-'90s are well aware that Jordan's career with the Bulls would've been short-lived. It is true that he completed the three-peats twice in the '90s; however, at that point, his championship streak with the Chicago-based franchise could've been limited to four. 
ADVERTISEMENT
Article continues below this ad
When the New York Knicks almost got hold of Michael Jordan
After shocking the world with his first retirement announcement in 1993 to join Minor League Baseball, the legend came back in 1995.
He pulled the Bulls back on-track and helped them win their 4th title in 1996. Notably, MJ was a free agent that off-season and was on the lookout for a 'Balloon' deal. 
Before him, his friend Patrick Ewing had already received one such deal from the Knicks. The center player had signed a whopping $18 million single-year deal with the Knicks.
However, the Knicks, who had already lost to the Bulls four times before the playoffs in 1996, lost yet again. By then, the Knicks franchise knew that their only chance to win rested in the hands of 'His Airness'.
For Jordan, it was a win-win because both Ewing and Charles Oakley were extraordinary players and his friends in NY. With the likes of Allan Houston and Larry Johnson at his side, he knew he could win that title with the Knicks. 
The Chicago Bulls had an undeniable counter
The key to the Knicks' confidence in signing MJ was Cablevision's extended ownership and also the sponsorship deal with ITT-Sheraton group.
ADVERTISEMENT
Article continues below this ad
Back then, Chicago Tribune writer Sam Smith had reported that the 1-year deal from the Knicks can get Jordan a record-breaking sum of $27 million ($15m coming from the sponsor deal). 
Interestingly, both David Falk and Bulls' owner Jerry Reinsdorf then had an infamous meeting. There, the Bulls were given a day's deadline to beat that crazy offer. 
ADVERTISEMENT
Article continues below this ad
The Bulls, understanding the future value of MJ, did not hesitate to beat that offer. They put forth a record-setting $30 million on offer. This was 2.5x the last record and something unheard of. But eventually, the Bulls retained MJ, and the rest is history.