THROWBACK: Zion Williamson and His Infamous College 'Shoe Explosion'
Published 10/16/2020, 12:10 PM EDT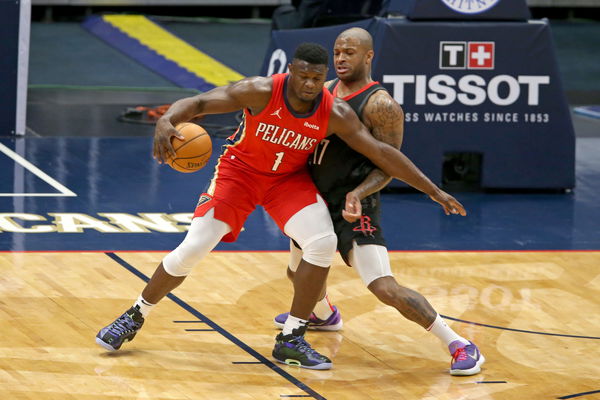 ---
---
Zion Williamson is bound to become one of the most high-profile names in basketball. Perhaps he already is, considering his status as the number one overall pick. However, there is a lot more to why Zion might be a once-in-a-generation talent.
ADVERTISEMENT
Article continues below this ad
The first pick in the 2019 draft was no ordinary top draft. Zion had expectations that rivaled LeBron James. Nobody had seen a player like him prior to this, with the closest comparison being a hybrid of Shaquille O'Neal and Charles Barkley. That's because he dominated and scored like Shaq did, while also carrying the rebounding prowess of Barkley.
However, one of his college games almost ended it all for him.
ADVERTISEMENT
Article continues below this ad
Zion Williamson and a great fall
Zion Williamson's strength and athleticism are unparalleled, and that became apparent in a 2019 NCAA Basketball game against the University of North Carolina. Zion and his Duke Blue Devils were facing their biggest rival, and the stars came out that night. Even former President Barack Obama was in attendance. But the highly anticipated college bout became a grim affair with an injury to the burgeoning superstar Zanos.
Zion's foot popped through his Nike shoes, leaving him injured. His only contribution in that game was the turnover he got after falling down post the shoe explosion.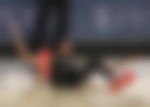 The fall-out of the infamous shoe explosion
Without Zion, the Blue Devis fell to the Tar Heels, 88-72. That game had multiple players that became first-round picks in the 2019 Draft. Coby White, R.J. Barret, Cam Reddish, Cam Johnson, and Nassir Little were all on the floor to watch the consensus top pick from their draft go down with an injury.
Zion didn't injure his ankle, but that fall caused a knee sprain. That single sprain led to Nike losing over a billion dollars because Zion was wearing one of their shoes. However, it still ended well for the shoe manufacturer, as Williamson would later sign with their subsidiary, 'Jordan Brand'.
The injury also resulted in debates about the treatment of college athletes. If the injury had been more severe, Zion would have lost out on millions from his career. This was before the NCAA permitted college athletes to sign endorsement deals. While Duke was selling expensive tickets and signing sponsorships using Zion's allure, Zion himself didn't make any money (officially).
Zion did return to the college basketball court, despite people saying he should sit out and protect his future. But even with his availability, the Blue Devils lost in the 'Elite Eight' to Michigan State and saw their season end without a championship.
Zion Williamson and teammates R.J. Barrett and Cam Reddish would declare for the Draft and not return for a second season.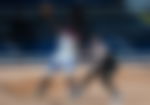 Zion Williamson today
Zion ended up going to the New Orleans Pelicans in the Draft. The knee injury caused by the shoe explosion may have come back to haunt Zion. He missed most of his season with issues in his right knee, including a meniscus tear. His health has become a focal point of his career, with many feeling he won't fulfill his potential due to his knee issues.
Zion's body is considered too burly and athletic for his own knees to absorb the weight. He can out-jump almost anyone and is one of the most ferocious players on the court. If you doubt, check this clip of Zion ripping the ball out of two-time MVP Giannis Antetokounmpo's hands after a rebound.
ADVERTISEMENT
Article continues below this ad
Zion averaged 22.5 points with 6.3 rebounds in his rookie year with just 24 games under his belt. He placed third in Rookie of the Year voting, getting the only first-place vote not given to winner Ja Morant.
Watch This Story
Williamson's knee might haunt him, but from what we saw in the games he played in 2020-21, Zion is special. He looks like a grown man on the basketball court, but he is just 21 years old. While he may have millions in the bank already, he is just scratching the surface of that potential.
ADVERTISEMENT
Article continues below this ad
And to think that all of this could have been lost because of a weak Nike shoe, incredible.
Watch this story – NBA Stars Who Have Dazzled at Met Gala Over the Years