Toronto Raptors Trump Golden State Warriors to Become the Most Successful NBA Team In Last 5 Seasons
Published 08/16/2020, 4:16 PM EDT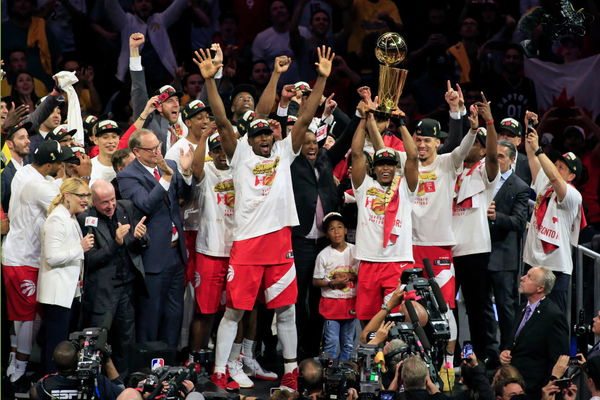 The Toronto Raptors have long been one of the most mocked teams in the NBA. They are one of the younger franchises in the league, having played their first season in 1995. Their jerseys, logos, and the team, on the whole, were all made fun of by traditional NBA fans. The Raptors struggled but managed to stumble upon a budding superstar duo by drafting Vince Carter and Tracy McGrady in back-to-back years. Carter in particular helped the team soar to new heights, becoming the first basketball sensation to play in Canada.
Even though Carter and McGrady left, the team drafted players like Chris Bosh to replace them. They also drafted one of the biggest busts of all-time in Andrea Bargnani. However, they built a decent roster after drafting DeMar DeRozan and acquiring Kyle Lowry from the Houston Rockets.
The Raptors have enjoyed great success since 2015, led by Lowry and DeRozan for the most part. Last season, DeRozan was swapped for Kawhi Leonard and the team took advantage of LeBron James's move to the Lakers and finally won an NBA title. People predicted a fall-off for the Raptors after Kawhi left for L.A., but the 2019 Most Improved Player Pascal Siakam has taken a massive leap forward and improved the Raptors record this season.
ADVERTISEMENT
Article continues below this ad
This continued excellence means that the Toronto Raptors have the most wins of any NBA franchise in the last five seasons.
Toronto Raptors: Perennial underdogs?
ADVERTISEMENT
Article continues below this ad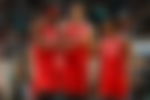 Every single season, the Raptors are projected to fail. The team is always considered to be over-achieving, but maybe they are just doing what they know they can do. They have won over 50 games in each of their last five seasons, despite coaching changes and roster upheavals. The only players from the 56 win 2015-16 team still on the roster are Kyle Lowry and Norman Powell. Powell played just 48 games that year, and Lowry was the star that led the team in win-shares.
Toronto places first in win-percentage (69.2%) in the last five seasons ahead of the Golden State Warriors (68.7%), the Houston Rockets (64.7%), the San Antonio Spurs (63.9%), and the Boston Celtics (63.3%). These are teams that have performed consistently over the last few seasons. The Warriors would have topped this list, but they had a major fall off this season.
ADVERTISEMENT
Article continues below this ad
The Raptors look unstoppable, and GM Masai Ujiri must be given a lot of credit for constantly keeping this team as a title contender, despite the changes they go through.