Trades For Which Kyle Kuzma Can Be Used by Los Angeles Lakers
Published 11/17/2020, 11:30 AM EST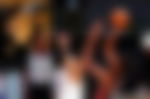 ---
---
NBA champions Los Angeles Lakers have been undoubtedly busy this off-season. The team is trying to bolster the squad for the upcoming season, as the future of many of their players' future remains uncertain.
ADVERTISEMENT
Article continues below this ad
The Lakers started this off-season with a brilliant trade. The team gave away Danny Green and their 28th draft pick to land Dennis Schroder. Schroder can be the backup point guard for the team and is a threat from the 3-point line.
The team will now try to elevate their roster by trading some other players. One of them is Kyle Kuzma. Kuzma massively under-performed in the 2019-20, averaging 12.8 points, 4.5 rebounds and 1.5 assists in 31.2 minutes per match.
ADVERTISEMENT
Article continues below this ad
His role in the Lakers team is not specified. He is neither a great scorer nor a great defender. Even though he performed well in the playoffs, the Lakers would surely prefer a player who can contribute more on both sides of the court.
Possible replacements for Kyle Kuzma
An obvious replacement for Kuzma would be Detroit Pistons' Derrick Rose. Detroit was interested in bringing in Kuzma in the deadline day but a deal failed to capitalize. With both the parties still interested, this deal is a no-brainer.
In Kuzma, the Pistons will have an energetic young player who can score coming off from the bench. Kuz will also benefit from the trade, as he will be given more of a starting role in the team- which will be crucial for his development.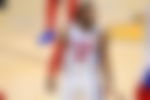 Derrick Rose had a great year in the Pistons as he averaged 18.1 points, 2.4 rebounds and 5.6 assists. In Rose, the team will add another superb point guard who can dictate the play and can reduce the load on LeBron with his scoring prowess too.
ADVERTISEMENT
Article continues below this ad
Another replacement can be Zach LaVine. The trade would see Kyle Kuzma, Quinn Cook, and Alex Caruso being sent to the Bulls in exchange of Lavine.
LaVine can be the third scorer that LA have been missing till now, with 25.5 points, 4.8 rebounds and 4.2 assists. The Bulls' star can take off some pressure off Anthony Davis and LeBron James. The Lakers let go of a great 3-point shooter in Green. LaVine can even provide them with the same.
The last replacement we are looking at is free agent Davis Bertans from the Washington Wizards. Betans had an exceptional year in Washington as he averaged 15.4 points, 4.5 rebounds and 1.7 assists in 42.4% from the 3-point line. Lakers could use someone of Bertans' offensive capability.
ADVERTISEMENT
Article continues below this ad
Bertans can be a capable replacement of Kuzma as he can be much more effective shooter. With Kentavious Caldwell Pope entering free agency and the departure of Danny Green, Lakers can bring in a shooter like Bertans.